Care of Newborn Child Through Samskara
Abstract
A newborn child is a foundation of mature man. If a child gets proper care he grows properly and turns into the healthy individual. Ayurveda is the science that describes it into its branch named 'Kaumarbhritya'. Kaumarbhritya deals with every aspect related to child. The hindu mythologies and many Ayurvedic Acharyas describe 16-40 Samskara in which 16 are specific and begins even before the baby borns and lasts till he take his last breath. Samskara, a word from the Sanskrit language, has a number of context-dependent meanings, but they all roughly speak of "putting together, doing well, making perfect, a kind of solemn acknowledgement and getting ready," as well as "mental impression, recall." The Samskara are the religious rites and ceremonies for purification of the body, mind and intellect of an individual. Samskara are the impressions and dispositions that develop and accumulate deep inside a person, according to these schools, from perception, inference, choices, preparation, practice, interaction with others, thoughts, wilful actions and karma. All these Samskara are performed since the mythological era. Is it important in reality and contribute in the child's development, it is a question mark for the new generation. So we should find the logic behind their contribution. In today's era, there is a strong need to understand and make others to understand these Samskara on scientific basis and its concept to adopt easily and we could get the ideal baby. Samskara suggests concept of growth & development and examination of developmental milestones of a growing child.
Downloads
Download data is not yet available.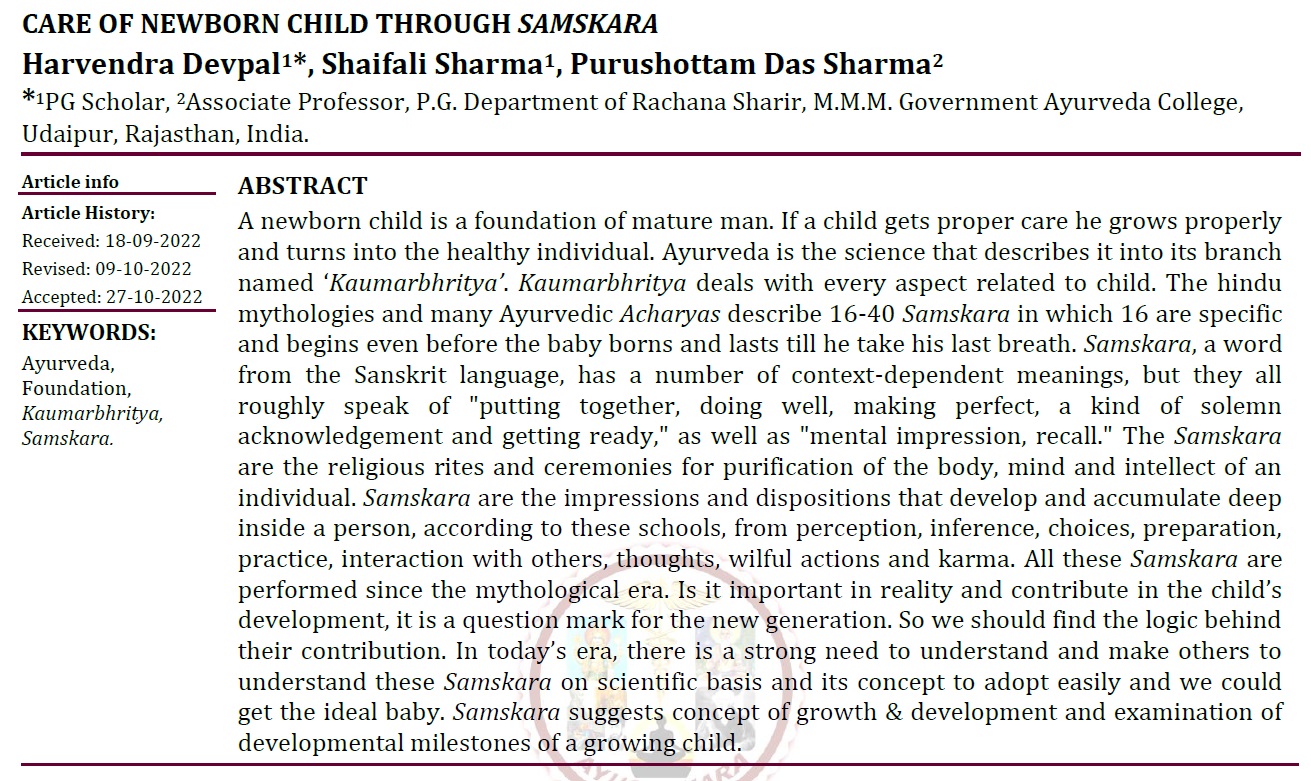 How to Cite
1.
Harvendra Devpal, Shaifali Sharma, Purushottam Das Sharma. Care of Newborn Child Through Samskara. ayush [Internet]. 2022Dec.1 [cited 2023Mar.23];9(5):72-6. Available from: https://ayushdhara.in/index.php/ayushdhara/article/view/1010
Copyright (c) 2022 AYUSHDHARA
This work is licensed under a Creative Commons Attribution-NonCommercial-ShareAlike 4.0 International License.