Scientific Analysis of Garbhini Ahar as Epigenetics Modifier of Offspring Genetics - A Critical Review
Keywords:
Garbhini paricharya, Epigenetics, Maturaharviharprakriti, Polyphenols, Prakriti
Abstract
Reproduction is a bliss that aids in transferring genes from one generation to another. Every prospective parent desire procreation of progeny endowed with supreme health throughout whole life. But, in today' s era due to faulty dietary and lifestyle habits people are not paying attention to their health resulting in rising incidence of chronic health related hazards like, NCD, DM, HTN, Dyslipidemia, allergies in later life. In last few decades, growing number of epidemiological studies provide evidence for association between nutrition during intrauterine life and major risk factors for CVS disorders and metabolic syndrome in adult life known as fetal origin of adult disease. The notion that intrauterine environmental factors can reset physiological parameters and the resetting can endure into adulthood and can even affect the following generation is known as fetal programming Ayurveda is far advanced as the concept of Garbhini paricharya particularly concept of month wise dietary regime is highly scientific and practical in terms of modern scientific knowledge. On screening the dietary articles mentioned for pregnant lady, it was found that every single fact pertaining to maternal diet mentioned in Ayurvedic text is scientific and has potential to modify the genome/phenotypic expression. Although these ancient dietary approaches have been successfully practiced from millennia but in present era elucidation of these approaches will improve the fidelity of Ayurvedic antenatal care as well as pave the way for future disease prevention. By focusing on Garbhini swasthavritta (pregnancy diet and lifestyle regimens) mentioned in Ayurveda we can reprogram the epigenetic modifications associated with increased disease risk in later life. Ghrita, milk and honey are very essential component of diet during pregnancy and should be consumed regularly. These dietary guidelines should be inoculated into general public for future imprinting of our next generation.
Downloads
Download data is not yet available.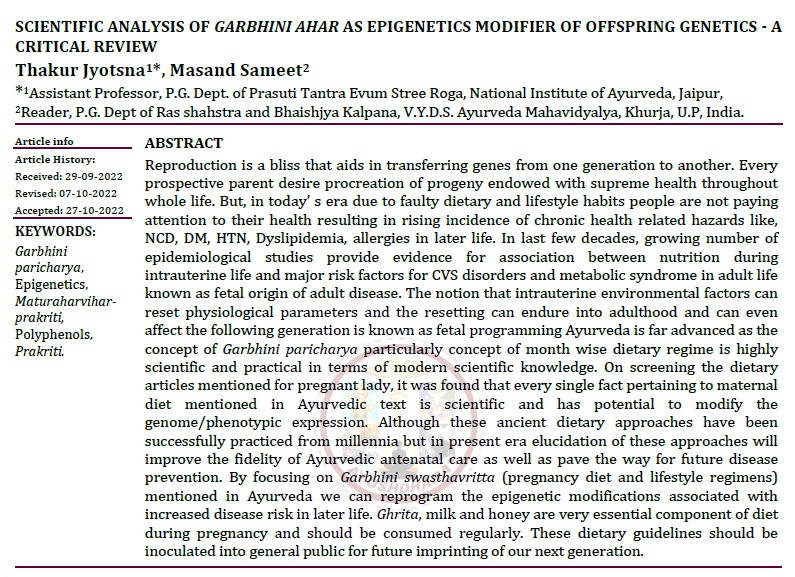 How to Cite
1.
Thakur Jyotsna, Masand Sameet. Scientific Analysis of Garbhini Ahar as Epigenetics Modifier of Offspring Genetics - A Critical Review. ayush [Internet]. 2022Dec.3 [cited 2023Feb.1];9(Suppl2):29-33. Available from: https://ayushdhara.in/index.php/ayushdhara/article/view/1014
Copyright (c) 2022 AYUSHDHARA
This work is licensed under a Creative Commons Attribution-NonCommercial-ShareAlike 4.0 International License.