Assessment of Efficacy of Gojivhadi Churna in Thrombocytopenia - A Pilot Study
Abstract
Thrombocytopenia is a condition in which platelet count drops below 150* 109 per l. Many diseases may cause this manifestation like dengue, malaria, leukemia, lymphoma, aplastic anemia, heavy alcohol consumption, megaloblastic Anaemia, chronic liver disorder, Infections etc. Patients who present with thrombocytopenia as a part of a multisystem disorder usually are ill and require urgent treatment. The various treatments available for thrombocytopenia in contemporary medicine have their own limitations. According to Ayurvedic Classics Thrombocytopenia can be correlated with Raktapitta. In all the Ayurvedic Samhitas many combinations of medicines are prescribed for Raktapitta. In the present study; powder combination of Gojivha (Brassica Oleracea), Amalaki (Emblica Officinalis) and Guduchi (Tinospora Cordifolia) was administered to 10 patients with established Thrombocytopenia. 500mgm of this Gojivhadi churna was given in morning and evening, BD dose, on empty stomach along with water for 7 days. WBC count and platelet count were recorded in the morning on empty stomach before and after the treatment that is, after 7 days. Observations were recorded in tabular form. As the sample size is small for application of any statistical test for significance of result; means were compared. Significant improvement in both WBC count and Platelet count was observed in all 10 patients without any adverse reactions.
Downloads
Download data is not yet available.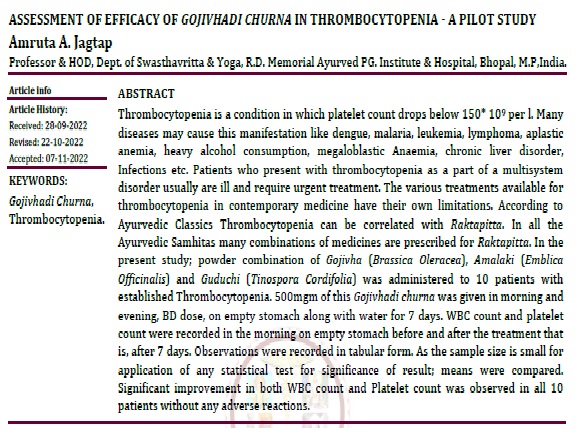 How to Cite
1.
Amruta A. Jagtap. Assessment of Efficacy of Gojivhadi Churna in Thrombocytopenia - A Pilot Study. ayush [Internet]. 2022Dec.1 [cited 2023Mar.23];9(5):34-8. Available from: https://ayushdhara.in/index.php/ayushdhara/article/view/1050
Copyright (c) 2022 AYUSHDHARA
This work is licensed under a Creative Commons Attribution-NonCommercial-ShareAlike 4.0 International License.