A Concept of Aahar in Ayurveda for Eye Nourishment
Keywords:
Netra, Aahar, Pitta, Rasayana
Abstract
Eyes are the most important sense organ in the human body. What we perceive comes through our sense of sight only. By protecting our eyes, we will reduce the eye diseases.
The eyes are the window to the body. They are the only place where our blood vessels can be viewed in their natural state without a surgical procedure. With this visual inspection of the blood supply, optometrists can stop many health conditions just by taking a place into your eyes. In Ayurveda, Netra are considered as site of Alochaka pitta. Pachaka pitta due to its strength, obliges all other types of Pitta by nourishing them. It is must to keep the status of Pachak pitta in proper balance to keep Alochaka pitta healthy. For this the diet should be taken light, easily digestible and following all principles of diet intake. The concept of balanced diet was also mentioned in Charak Samhita, the things which are always conducive for health and should be consumed regularly for the maintenance of health. Food has been given the prime importance since Vedic period. It is one among the three sub-pillars supporting life. Aahara (diet) plays major role in keeping eyes healthy. Virudha Aahara (incompatible foods) may leads to poor vision or even blindness. Clinical conditions which may occur due to faulty lifestyle are Diabetic Retinopathy, age related macular degeneration, Computer Vision Syndrome etc. For preventing these types of eye diseases and for maintaining ocular health much has been described in Ayurvedic Samhitas, in the form of Ritucharya, Sadvritta, Chakshushya Rasayana. The food products and dietary habits regarding proper eye health will be in explained in paper.
Downloads
Download data is not yet available.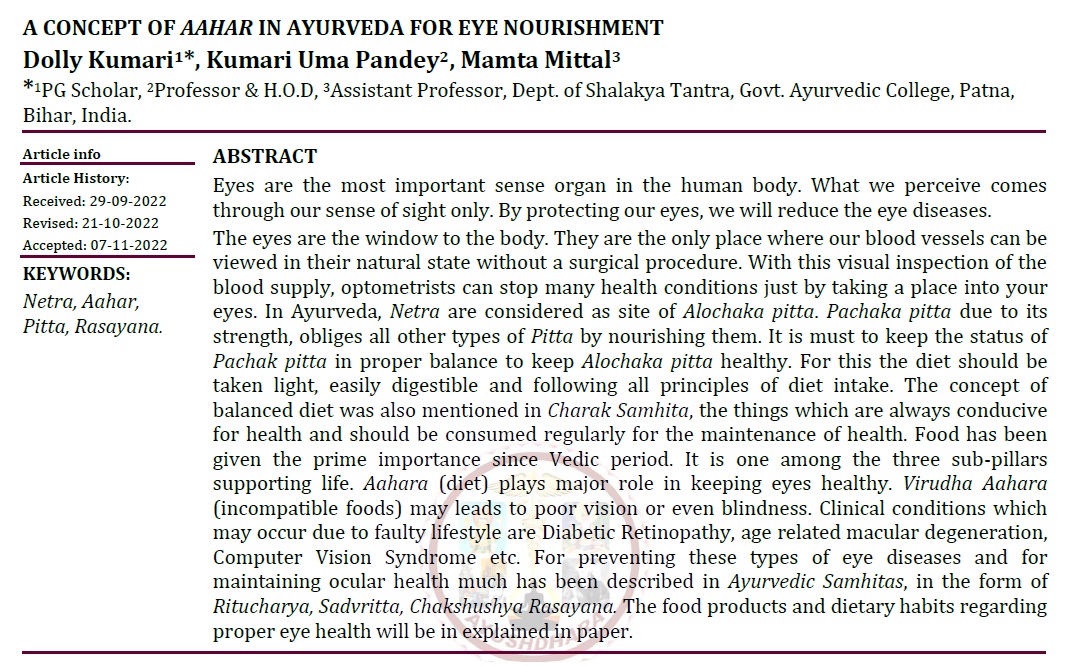 How to Cite
1.
Dolly Kumari, Kumari Uma Pandey, Mamta Mittal. A Concept of Aahar in Ayurveda for Eye Nourishment. ayush [Internet]. 2022Dec.1 [cited 2023Mar.23];9(5):90-4. Available from: https://ayushdhara.in/index.php/ayushdhara/article/view/1063
Copyright (c) 2022 AYUSHDHARA
This work is licensed under a Creative Commons Attribution-NonCommercial-ShareAlike 4.0 International License.