A Case Study on Management of Vataja Prameha (Madhumeha) w.s.r. to Diabetes Mellitus Type II
Keywords:
Madhumeha, Diabetes mellitus, Patolkaturohinyadi kashayam, Triphala guggulu, Madhumehari churna.
Abstract
There has been a sharp rise in diseases that are life-threatening. The World Health Organization highlighted a number of illnesses, including metabolic and cardiovascular conditions, as contributing factors to India's high mortality rate. Madhumeha was listed among the eight major illnesses by Acharya Vagbhata. The metabolic syndrome includes diabetes. An imbalance between insulin sensitivity and insulin secretion causes Type II DM, also known as non-insulin-dependent diabetic mellitus (NIDDM). Increased predominance during the past three decades has put a financial strain on many emerging nations. Aim: to evaluate the contribution of Samshamana Karma to the management of Vataja Prameha w.s.r. to Diabetes Mellitus. Material and Method: A 41 years old male patient came to OPD No 7 of National Institute of Ayurveda, Jaipur, Rajasthan, on 23 May 2022 with a complain of Generalised weakness, Increase frequency of urination for one month. Intervention: We prescribed Patolkaturohinyadi Kashayam, Triphala Guggulu and Madhumehari Churna orally. Significant relief was found in sign and symptoms and blood sugar level after treatment. Conclusion: In the current case study, Ayurvedic oral medication was used to treat a Type II DM patient. The parameters under study were Prabhuta Mutrata, Daurbalya, Fasting Blood Sugar (FBS), Post prandial Blood Sugar (PP2BS), and Glycosylated Hb (HbA1C). After 3 months of treatment, we saw significant relief.
Downloads
Download data is not yet available.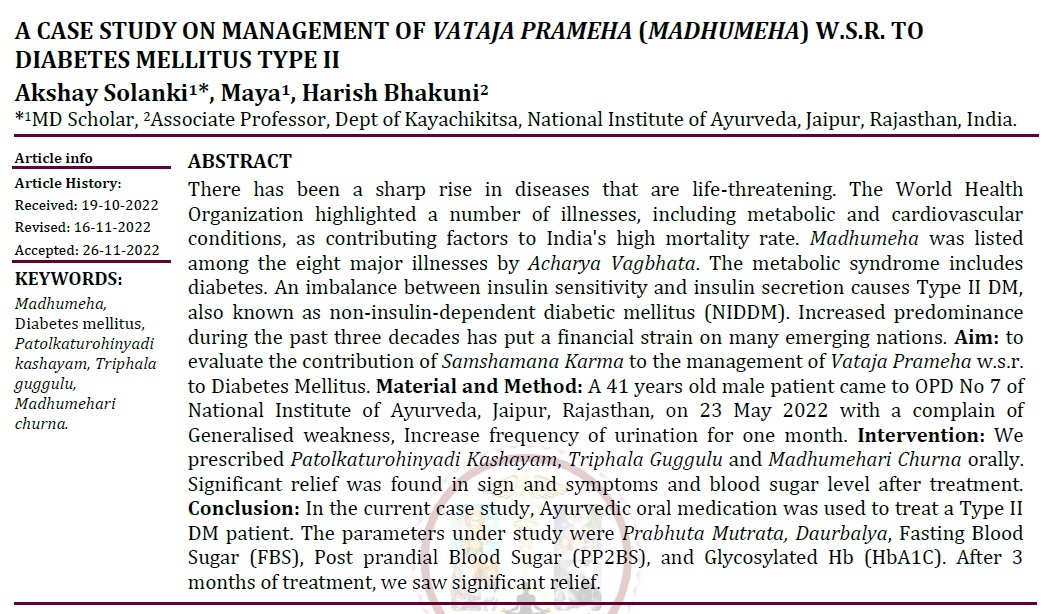 How to Cite
1.
Akshay Solanki, Maya, Harish Bhakuni. A Case Study on Management of Vataja Prameha (Madhumeha) w.s.r. to Diabetes Mellitus Type II. ayush [Internet]. 2022Dec.1 [cited 2023Sep.28];9(5):105-7. Available from: https://ayushdhara.in/index.php/ayushdhara/article/view/1085
Copyright (c) 2022 AYUSHDHARA
This work is licensed under a Creative Commons Attribution-NonCommercial-ShareAlike 4.0 International License.