An Applied Aspect of Swabhavoparam Vada and Hetum Hetorvartanam: A Review
Keywords:
Hetum-hetorvartanam, Svabhavoparam Vada, Karya Karna Vada, Dhatu samya
Abstract
The ancient science of Ayurveda is founded on numerous schools of thought. Given that it is an applied science, it has a scientific foundation. The Ayurveda's guiding principles were established after extensive experimentation. Because of this, these guidelines still hold true. even in the present. The modern world, however, does not exclusively adhere to religion. To persuade the academics of the veracity of these principles, rigorous observation, study, and experimentation fully backed by facts, proofs, and statistical analysis are required. A conversation of this nature is essential for thorough understanding of the topic. The greatest way to establish any subject's fundamentals is through these logics. The Vadas of Darshanas were also the source of the ideas in Swabhavoparam Vada evum Hetum-hetorvartanam. Regarding Swabhavoparam Vada, Acharya Charka used Kala as an illustration to explain the Swabhavoparam Vada idea. The Hetum-hetorvartanam, on the other hand, is in near proximity to Karya Karna Vada. Ayurveda uses both the Swabhavaparam Vada and the Hetum-Hetorvartanam principles to treat illnesses. Swabhavoparam Vada is adamant about sustaining Dhatu samya since the ailment will go away after being destroyed by nature, while Hetum-Hetorvartanum emphasises getting rid of the Hetu thus causing Hetu to disappear, which will result in the disease's cure. Therefore, an effort is made to comprehend Hetum-Hetorvartanam and Svabhavoparam Vada in relation to philosophical and practical aspects of Ayurveda.
Downloads
Download data is not yet available.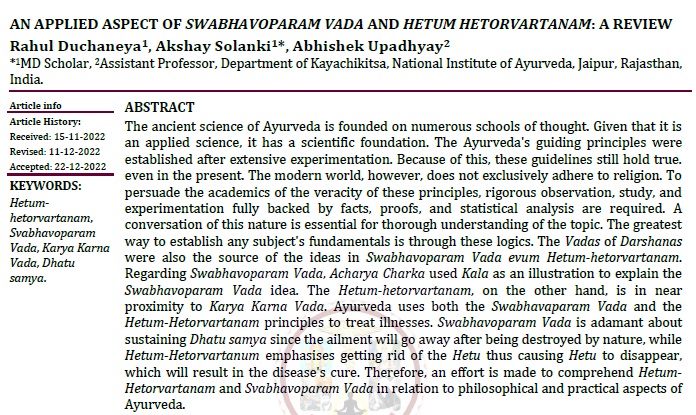 How to Cite
1.
Rahul Duchaneya, Akshay Solanki, Abhishek Upadhyay. An Applied Aspect of Swabhavoparam Vada and Hetum Hetorvartanam: A Review. ayush [Internet]. 2023Jan.15 [cited 2023Feb.1];9(6):27-31. Available from: https://ayushdhara.in/index.php/ayushdhara/article/view/1086
Copyright (c) 2022 AYUSHDHARA
This work is licensed under a Creative Commons Attribution-NonCommercial-ShareAlike 4.0 International License.