Review on Malla Sindoor- An Effective Rasoushadhi
Keywords:
Rasoushadhis, Malla Sindoora, kupi pakwa Rasayana, shuddha somal shuddha Parad, shuddha gandhaka, Rasa karpura.
Abstract
Rasoushadhis are compounds that can treat a variety of illnesses. Malla Sindoora is a Kupi pakwa Rasayana which is used in the treatment of Vata diseases, Pakshaghata (Hemiplegia), Amavata (Gout) and Kapha diseases, pneumonia, respiratory illness. Malla Sindoor is a mineral formulation containing Shuddha somal (As2O3), Shuddha Parad (Mercury) and Shuddha gandhaka (sulphur). Kajjali is the main ingredient of Kupi pakwa rasayana kalpana, it improves the Jatharagni and Dhatuagni. A high heat level makes the composition powerful, allowing for rapid absorption. Kupipakwa rasayana is quite useful in treating Vata kapha diseases. Ayurvedic treatments can accomplish the intended effect using formulation made via Kupipakwa rasayana because they are less in dose, have rapid action, and are manufactured in this way. An Attempt has been made to critically review the formula. Literature study revealed that Malla sindoor is attributed with properties like Vatahara, Tridoshara, Rasayana, Kaphhara, Yogvahi, Vatakaphashamak etc. So it can be said that it may effective in all the indications mentioned above. While reviewing Rasashastra texts, various reference of Malla Sindoor preparation are found with variation in their ingredient and temperature pattern. Most of the classic al books using Rasa Karpura is one of the ingredients of Malla sindoor. Preparation of Malla sindoor without Rasa Karpura as per reference of Rasatantrasara and Shidhprayogsangrha. Here, Somal, Parada, and Gandhaka are used in 1:2:2 ratio, but in different Rasa classics it is described that the amount of Rasa Karpura is one of the major ingredients taken in the same proportion.
Downloads
Download data is not yet available.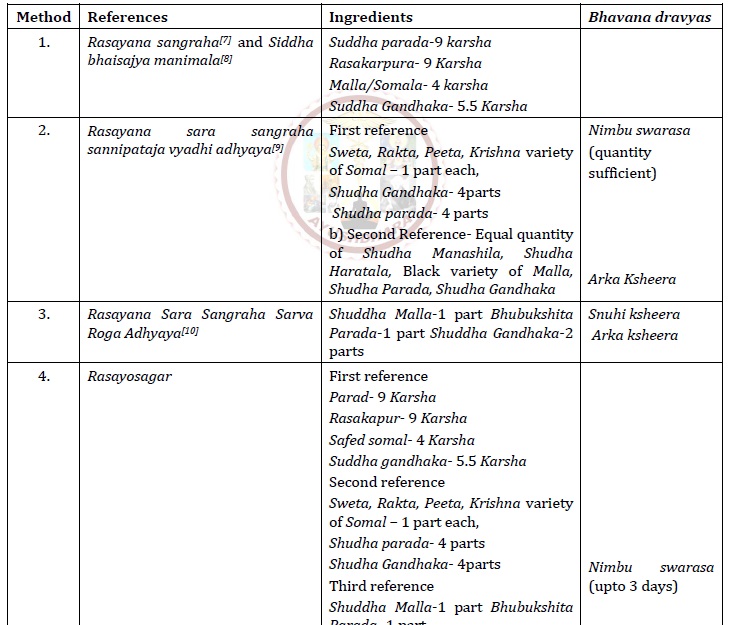 How to Cite
1.
Neha Meena, Vashishtha, Rajendra Prasad Sharma, Sakhitha KS. Review on Malla Sindoor- An Effective Rasoushadhi. ayush [Internet]. 2023Jan.15 [cited 2023Nov.30];9(6):105-10. Available from: https://ayushdhara.in/index.php/ayushdhara/article/view/1111
Copyright (c) 2022 AYUSHDHARA
This work is licensed under a Creative Commons Attribution-NonCommercial-ShareAlike 4.0 International License.