Efficacy of Shirahshoolahar Basti and Shaman Chikitsa in Ardhavabhedaka - A Single Case Study
Keywords:
Ardhavabhedaka, Shirahshoolhar Basti.
Abstract
In Ayurveda remarkable result were found for many "Kashtasadhya Vyadhi". Ardhavabhedaka is one of the diseases found in routine practice. Ayurvedic oral medicine i.e., Shaman Chikitsa along with Panchakarma procedure are used routinely. Out of Panchakarma procedure Nasya, Shirobhyanga are broadly selected by many Vaidyas but considering Doshadushti of Vatapradhanya Basti is most indicated selection of procedure for Ardhavabhedaka. Also very less work was found on Shirahshoolahar Basti. So an attempt is made to work on this type of Basti. In the present study 32 years old male patient is known case of Ardhavabhedaka was selected. He was barber by profession and suffering since 3 years. Temporarily relieved by analgesics. Thinking on the behalf of the patient was treated with Shaman and Shodhan chikitsa on indoor basis. For Shaman Chikitsa Shirashooladi Vajra rasa, Sutashekhar rasa, Pathyadi Kwath were the Abhyantar drugs given. Shodhanarth Shirahshoolahar Basti were given which contains Gogruta, Dashmoola taila, Mashkashaya, Dadhi, Dadim rasa, Saindhava. Treatment period was 15 days. Before and after treatment patient was assessed. All the drugs used are Vatashamak, Shoolaghna, Pittashamak thus used for Sampraptibhang. Duration between two Vegas prolongs and also intensity of the Vega shows remarkable result. Associate symptoms like Hrullas, Chardii, Bhrama, photophobia etc decrease. Scope of research; by increasing trials on more number of patients may develop some "standardize Ayurvedic Chikitsa" for such Kashtasadhya vyadhi like Ardhavabhedaka.
Downloads
Download data is not yet available.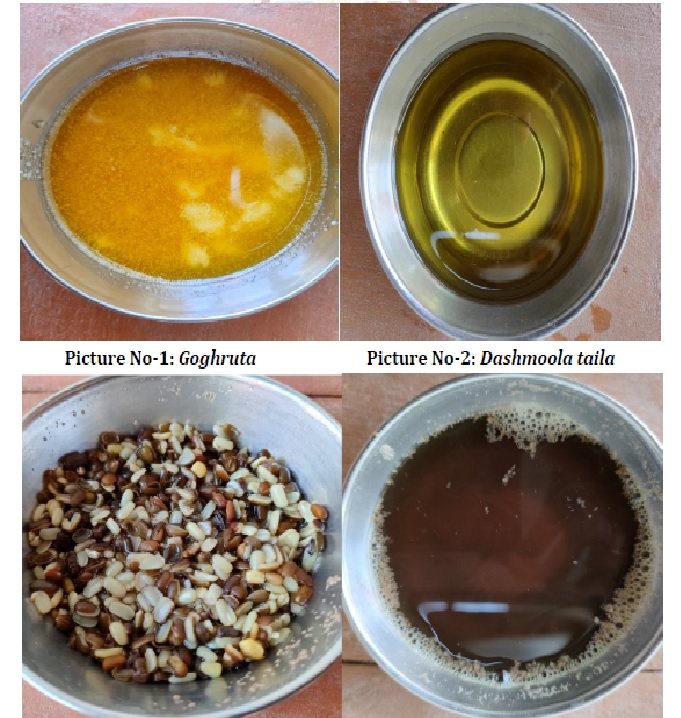 How to Cite
1.
Chalakh Tejaswini, More Manjusha. Efficacy of Shirahshoolahar Basti and Shaman Chikitsa in Ardhavabhedaka - A Single Case Study. ayush [Internet]. 2023Mar.6 [cited 2023Mar.21];10(Suppl1):36-41. Available from: https://ayushdhara.in/index.php/ayushdhara/article/view/1115
Copyright (c) 2023 AYUSHDHARA
This work is licensed under a Creative Commons Attribution-NonCommercial-ShareAlike 4.0 International License.