Critical Analysis of the Concept of Rogamarga
Keywords:
Rogamarga, Compartment-alization, Alimentary compartment, Intravascular compartment, Interstitial compartment, Intracellular compartment, Pathogenesis.
Abstract
Rogamarga is an important concept in Ayurveda that describes the mode of progression of a disease. Occurrence, progression and recurrence depend on the different Rogamarga that it follows. Through the description of three different Margas namely Bahya abhyantara and Madhyama, Acharyas have explained the entire pathway through which a Vyadhi occurs. Concept of compartmentalization deals with division of the body into different fragments as alimentary compartment, intravascular compartment, interstitial compartment and intracellular compartment. It is through the knowledge of these compartments that we understand the process of digestion and transportation of nutrients all over the body. The same concept can be utilized to understand the pathology behind a disease manifestation. Rogamarga as well as compartmentalization, both talk about pathway through which a disease gets manifested. It is important to know the pathway in order to understand the pathogenesis of a particular Vyadhi. Basic fundamentals of Rogamarga and compartmentalization find similarities. Each of the compartments can be categorized into the three Rogamargas Bahya Madhyama and Abhyantara at different levels. In our science though there have been studies and articles on the basics of Rogamarga much has been not explored regarding compartments and their role in disease manifestation. This article is a humble attempt to decode the concept of Rogamarga in terms of compartmentalization thereby trying to analyse the progression of disease pathogenesis.
Downloads
Download data is not yet available.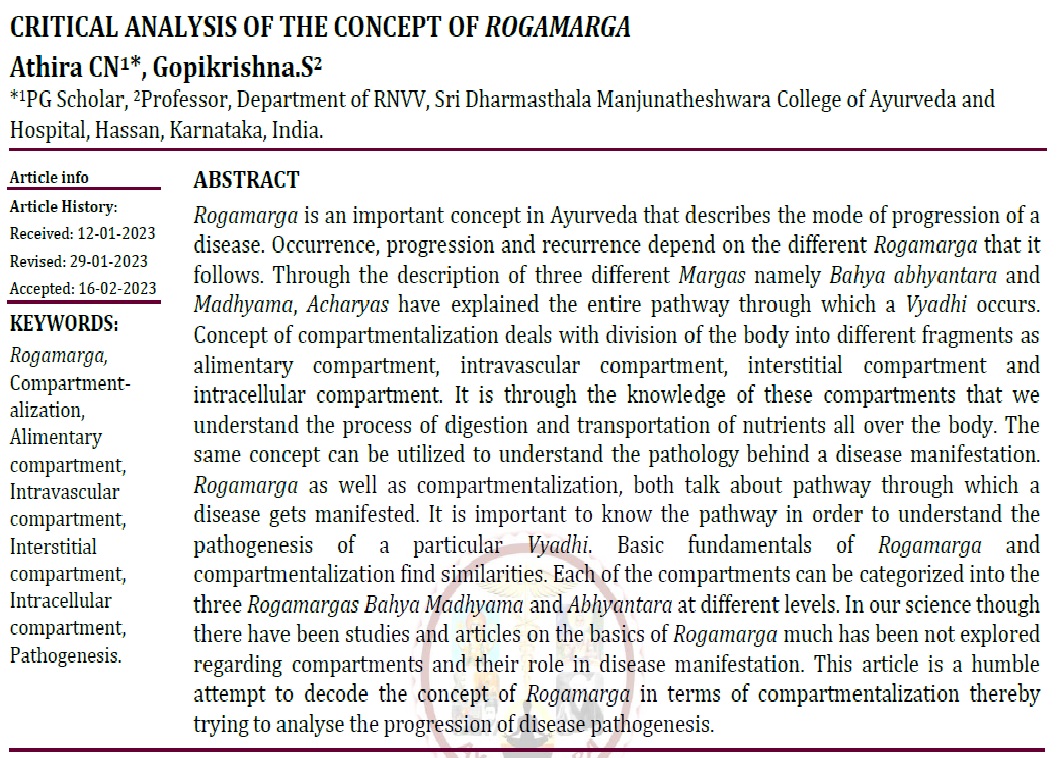 How to Cite
1.
Athira CN, Gopikrishna S. Critical Analysis of the Concept of Rogamarga. ayush [Internet]. 2023Mar.6 [cited 2023Mar.21];10(Suppl1):72-6. Available from: https://ayushdhara.in/index.php/ayushdhara/article/view/1132
Copyright (c) 2023 AYUSHDHARA
This work is licensed under a Creative Commons Attribution-NonCommercial-ShareAlike 4.0 International License.