A Critical Review on Importance of Samprapti with special reference to Sandhivata (Osteoarthiritis)
Keywords:
Samprapti, Sandhivata, Osteoarthritis, Pathogenesis, Joint pain.
Abstract
The way in which the Dosha gets vitiated and the course it follows for the manifestation of a disease is called Samprapti along the line of 'Dosha eva hi sarvesham rogatnamaka karana.' Sandhivata is non mortal but severely debilitating disease-causing limitation in day to day activities in old age leading to social and emotional burden for the person. The clinical presentation of Sandhivata closely mimics with Osteoarthritis (OA), the second most common rheumatologic problem. The disease is more common in women than men with prevalence rate of 22% to 39% in India. Aim: The study mainly aims to explore the concept of Samprapti w.s.r to. Sandhivata (OA). Methods: Ayurveda classics along with the commentaries were carefully studied to compile information about Samprapti of Sandhivata. Modern textbooks, journals, database, websites were also studied thoroughly to explore the concept. Discussion: Nidana aggravates Vata and this Prakupita Vata gets accumulated in Rikta srota and gives rise to various generalized and localized diseases. Samprapti (pathogenesis) of Sandhivata goes like – indulgence in Vata prakopaka aahara vihara results in Vata prakopa leading to Vishamta in Agni, due to which there occurs Dhatukshaya and Dushti of Asthivaha srotas. Further, Sthana sanshraya takes place in Sandhi resulting in Sandhigata vata. There are two variations in the Samprapti of Sandhivata: 1. Dhatukshayajanya: This mainly occurs in old age people. 2. Aavaranjanya: In obese, usually Sandhivata occurs in the weight bearing joints like knee joint, hip joint, lumbar spine etc. Conclusion: If physician understands the Samprapti in a proper way, he will never fail in the management of disease as Samprapti Vighatana is considered as Chikitsa in Ayurveda. Keeping this point in mind patients suffering from Sandhivata can be given a better life by Ayurveda if and only when the Samprapti of the disease is clearly understood.
Downloads
Download data is not yet available.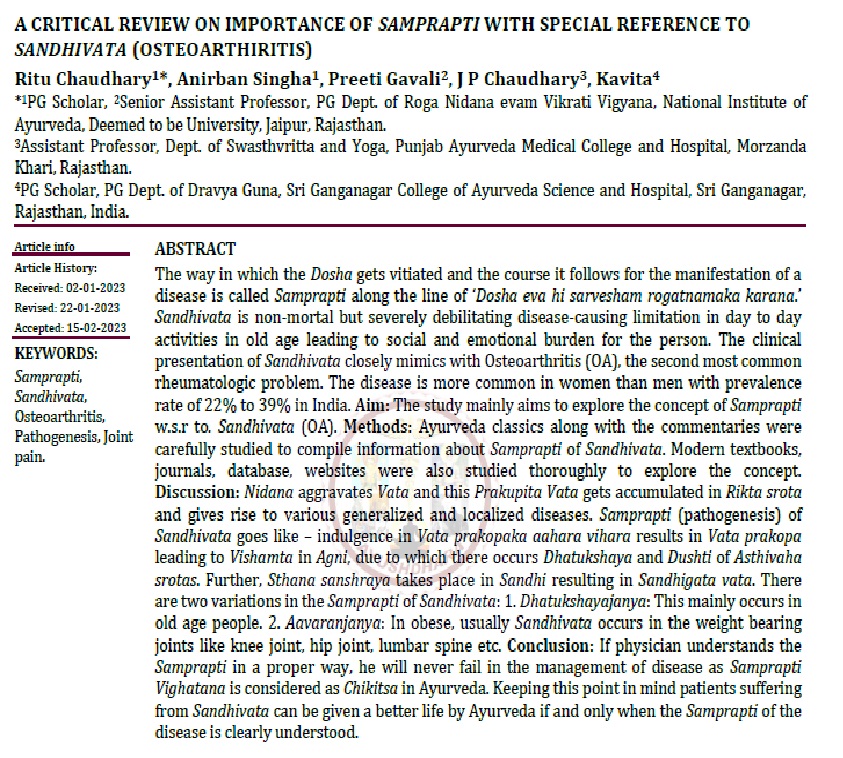 How to Cite
1.
Ritu Chaudhary, Anirban Singha, Preeti Gavali, J P Chaudhary, Kavita. A Critical Review on Importance of Samprapti with special reference to Sandhivata (Osteoarthiritis). ayush [Internet]. 2023Mar.6 [cited 2023Mar.21];10(Suppl1):66-71. Available from: https://ayushdhara.in/index.php/ayushdhara/article/view/1138
Copyright (c) 2023 AYUSHDHARA
This work is licensed under a Creative Commons Attribution-NonCommercial-ShareAlike 4.0 International License.