Importance of Agni and Ama in Pratishyaya Chikitsa - An Integrative Approach
Keywords:
Akshi Roga, Kukshi Roga, Ama Lakshana, Amapachana.
Abstract
Agni can be considered as the digestive component in the body at the level of Jatharagni, Bhootagni and Dhatvagni. It is given utmost importance in Ayurveda for if the Agni is inefficient in functioning, then it leads to the formation of Ama which then gives rise to multiple ailments starting from Jvara to complicated diseases. Ama Chikitsa is specially recommended in five diseases like Akshi Roga, Kukshi Roga, Pratishyaya, Vrana, and Jvara. Ayurveda explains the features of Ama Pratishyaya and also has given demarcation between Ama and Pakva Pratishyaya for the purpose of treatment. The Amajanya Lakshanas of Pratishyaya include- heaviness of head, anorexia, rhinorrhoea, voice change, etc. Multiple studies done in Allopathic science show the association of GERD, gut microbes and gastritis with allergic and non-allergic rhinitis. The initial treatment in acute condition (Amaja Pratishyaya) is based on Agni Chikitsa or Amapachana which is considered very important as it can even prevent the future disease entity. The initial treatment begins with Deepana-Pachana Kashaya in the form of Panchakola Hima, Ardraka Payasa etc which not only replaces the lost fluids but also maintains the level of hydration. Hence the importance of Ama Chikitsa in Pratishyaya is dealt in detail in this paper.
Downloads
Download data is not yet available.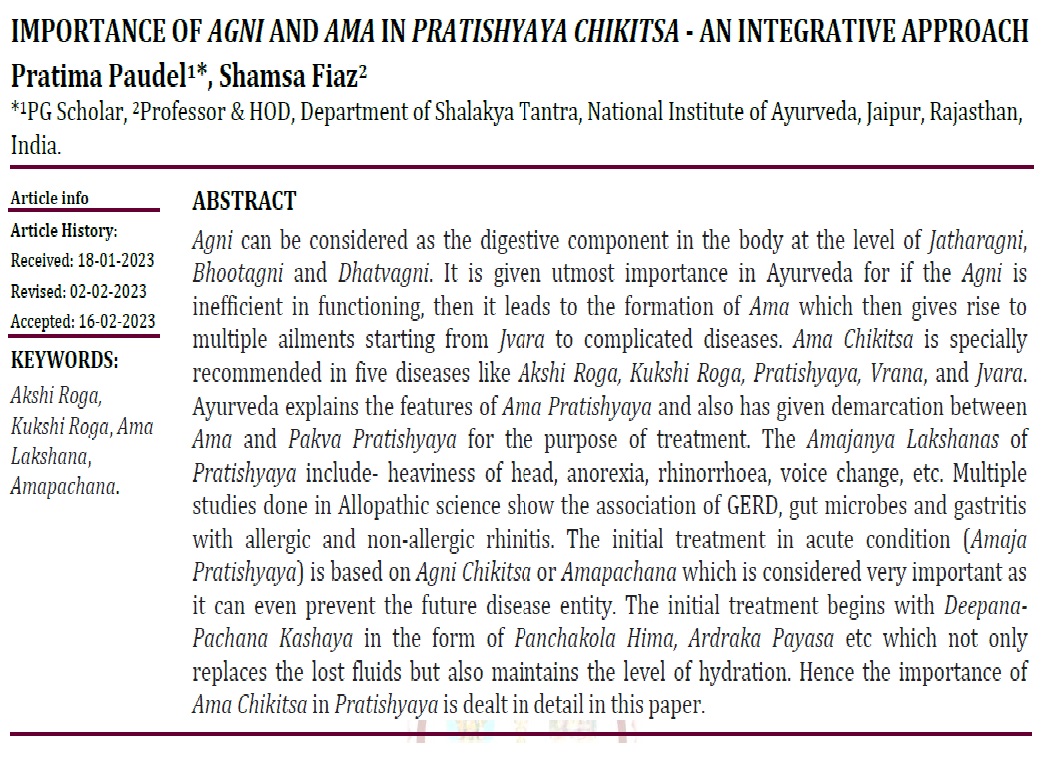 How to Cite
1.
Pratima Paudel, Shamsa Fiaz. Importance of Agni and Ama in Pratishyaya Chikitsa - An Integrative Approach. ayush [Internet]. 2023Mar.6 [cited 2023Mar.21];10(Suppl1):87-90. Available from: https://ayushdhara.in/index.php/ayushdhara/article/view/1146
Copyright (c) 2023 AYUSHDHARA
This work is licensed under a Creative Commons Attribution-NonCommercial-ShareAlike 4.0 International License.