Development of Vyadhikshamatava Through Judicious use of Causative Factors w.s.r. to Covid -19 Like Pandemic
Keywords:
Survival of the fittest, Vyadhi Hetu, Vyadhiksh-amatava, Purvaabhi-sanskaar, Hygiene Hypothesis, Visha Kanya.
Abstract
Everything around us is in a state of flux due to the COVID-19 corona virus. But, this is not the first time the globe has experienced such a thing. Throughout history, infectious illnesses with pandemic potential have frequently emerged and spread. When a brand-new infection breaks out, the process of natural selection restarts and leads to survival of the fittest. The fittest are those with the "right" immune response which allows the illness to be cleared quickly without causing excessive inflammation, which can be fatal. For millennia, Ayurveda has had a highly developed theoretical and methodological framework for researching novel ailments and developing treatment guidelines based on rationale derived from clinical medicine principles and therapeutic experience. Epidemics have been extensively discussed in Ayurvedic canonical texts, providing a substantial collection of treatment techniques that not only have a long history of safe use but have also proven beneficial in similar illnesses. As the COVID-19 pandemic raged on, scientists were racing the clock and breaking records to develop an immunization that provides protection against the virus. Ayurveda stands at no less position when it comes to the concept of pre-exposure to disease-causing agents/factors to stimulate the production of capacity to fight them, in turn providing Vyadhikshamatava i.e., immunity against one or a few diseases. Refining the body with the use of substances similar to the disease-causing causes against the body (Purvaabhisanskaar) is symbolically described in Ayurvedic texts e.g., Visha Kanya. Thus, it would not be an exaggeration to say that modern vaccination is based on Ayurveda's this concept to avoid this disease.
Downloads
Download data is not yet available.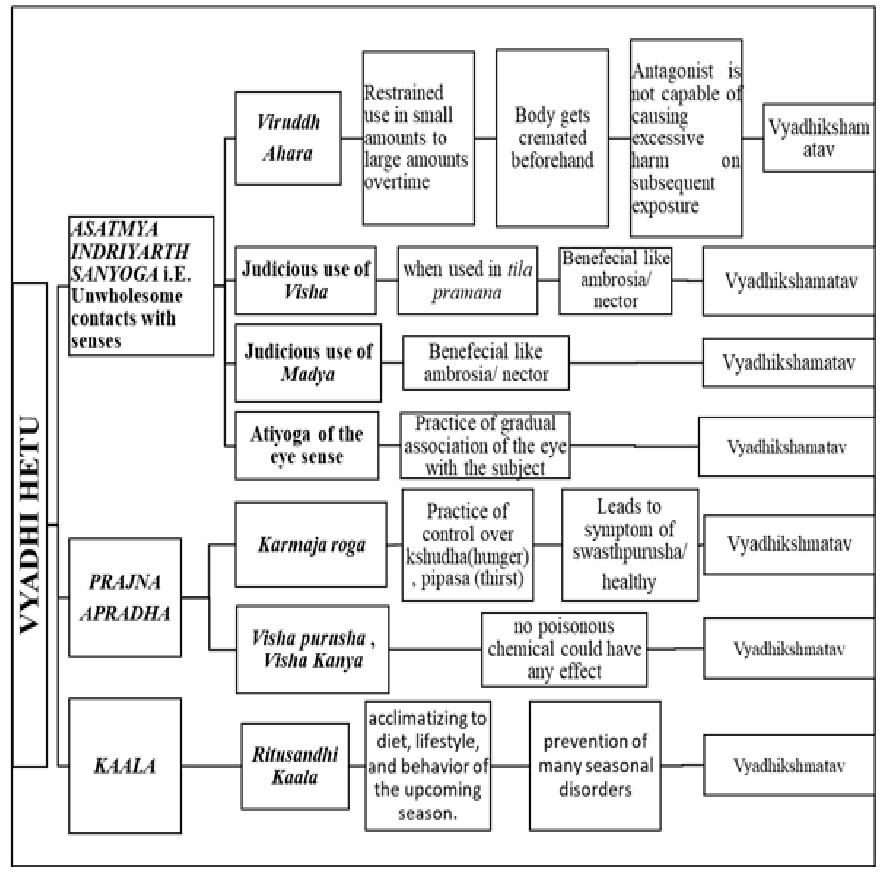 How to Cite
1.
Kanyal Kavita, Pandey Vijay Shankar. Development of Vyadhikshamatava Through Judicious use of Causative Factors w.s.r. to Covid -19 Like Pandemic. ayush [Internet]. 2023Mar.6 [cited 2023Mar.21];10(Suppl1):98-104. Available from: https://ayushdhara.in/index.php/ayushdhara/article/view/1152
Copyright (c) 2023 AYUSHDHARA
This work is licensed under a Creative Commons Attribution-NonCommercial-ShareAlike 4.0 International License.