Efficacy of Virechana in Treating Raised Uric Acid Level in Gouty Arthritis - A Cohort Study
Keywords:
Vatarakta, Gouty Arthritis, Uric acid, Virechana, Shodhana chikitsa.
Abstract
Vatarakta is a disorder predominantly affecting the joints with presenting symptoms like Sandhishula (pain), Sandhi shotha (swelling), Sandhi Graha (stiffness) Sparsh-asahishnuta (tenderness). Vatarakta in modern view has similarity with Gouty Arthritis. Gout and gouty arthritis though much prevalent in the western countries, it is not uncommon in India. The occurrence of Gout and gouty arthritis is common in the post pubertal males, and post-menopausal females. Hyperuricemia is a predisposing factor for the manifestation of gouty arthritis. The prevalence of gout varies between populations but is around 1% with a strong male predominance (10:1). As treatment given in modern is quite toxic this study on Vatarakta was taken up to find out the possible effects of Ayurvedic therapies in its management. Virechana is one of the Shodhana chikitsa in the management of Vatarakta. The objectives of the study were to study the efficacy of Virechana in reducing the raised uric acid level. Materials and Methods: 20 patients were included in this clinical study. Subjects were given Panchatikta guggulu ghrita for Snehapana, followed by Sarvanga abhyanga with Balaguduchyadi taila and Virechana with Nimbamrita Eranda taila. The total duration of the study was 7 days and follow up was done after 1 week. The assessment was carried based on subjective parameters like Sandhishoola, Sandhigraha and objective parameters like Twak Vaivarnyata, Sparshasahatwa, serum uric acid level, and McGill's pain scale was done before and after treatment. Results were statistically analyzed using Wilcoxon signed-rank test. Results: Significant results were observed in subjective parameters such as Sandhishoola (85.6%) and Sandhigraha (75%) as well as objective parameter like twak Vaivarnyata (86.4%), Sparshasahatwa (90%), 32.8% serum uric acid level (32.8%), Mac gills pain scale (50%). Conclusion: Virechana with Nimbamritadi eranda taila was effective in the management of Gouty arthritis.
Downloads
Download data is not yet available.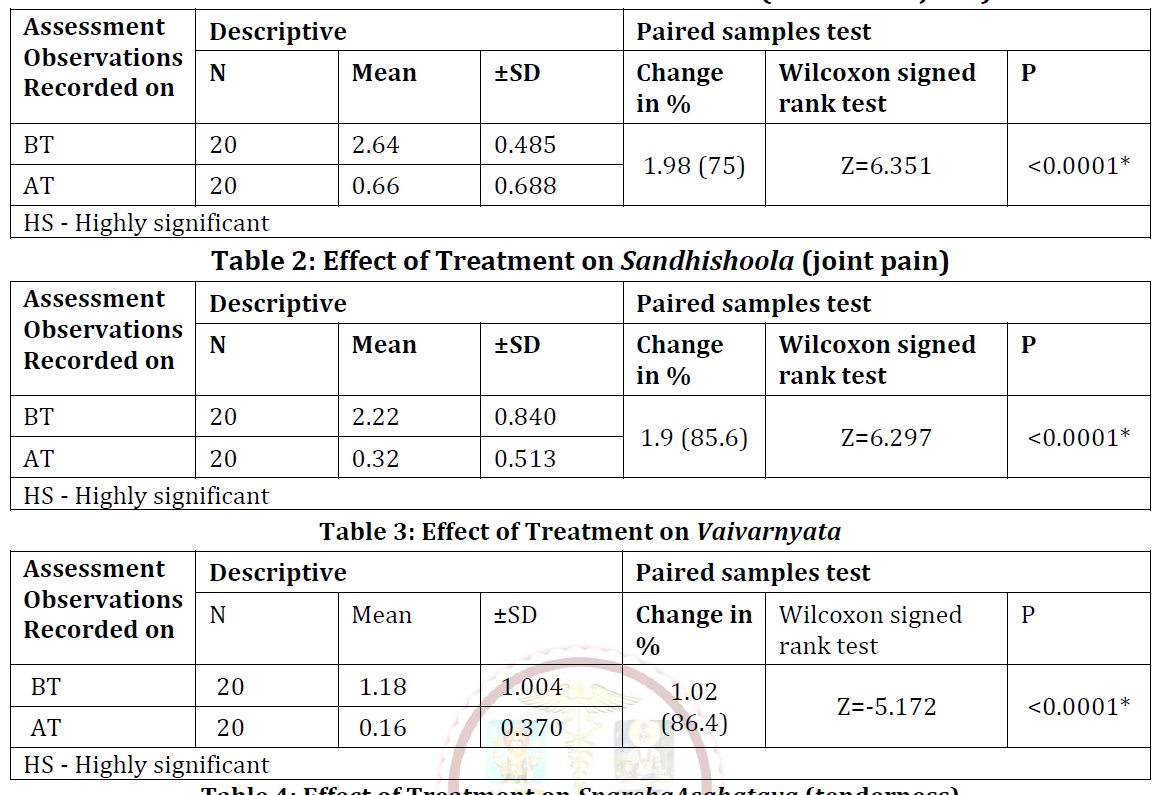 How to Cite
1.
Uma A Patil, Prashanth A S. Efficacy of Virechana in Treating Raised Uric Acid Level in Gouty Arthritis - A Cohort Study. ayush [Internet]. 2023Mar.3 [cited 2023Nov.29];10(1):51-7. Available from: https://ayushdhara.in/index.php/ayushdhara/article/view/1162
Copyright (c) 2023 AYUSHDHARA
This work is licensed under a Creative Commons Attribution-NonCommercial-ShareAlike 4.0 International License.