Rajaswala Paricharya- An Essential Approach Towards Female Through the Lens of Ayurveda Science
Keywords:
Rajaswala paricharya, Normal menstruation.
Abstract
Ayurveda recognizes menstruation as a physiological and self-purifying process; it is also governed by the actions of the Doshas. Ayurveda has prescribed a mode of life to be adopted by menstruating women - a series of Do's and Don'ts - called as Rajaswala Paricharya, which aims to protect the health of the menstruating woman and prevent any health defects in the child, in case any conception happens. Menstrual Dysfunctions Risk Factors are conventionally divided into social and medico-biological. Unfortunately, it has been observed that the Rajaswala Paricharya is neither being publicized nor followed by the women in modern era. Also, the wrong information spread by media and manufacturers of sanitary napkins. WHO, UNICEF, NHM-GOI all are emphasizing on improving the reproductive health of adolescent girls and supports the accessible WASH facilities. But, they do not emphasize certain do's and don'ts during menstrual days. So, Ayurveda physician has to promote this Paricharya for enhancement of reproductive health of female. With little effort, women naturally increased observance of the restrictions as they practiced them and experienced the benefits. Aim of this is to avoid vitiation of Vata, Pitta and Kapha, prevent formation of Ama and restore the Bala and nurture the Agni of the female. Thus, developing a correct and a positive outlook towards menstruation i.e., Rajaswala Paricharya is as important as practicing them. Girls may be benefited from it by responding appropriately to physical and psychological changes that occur during menstruation as well as by experiencing fewer symptoms.
Downloads
Download data is not yet available.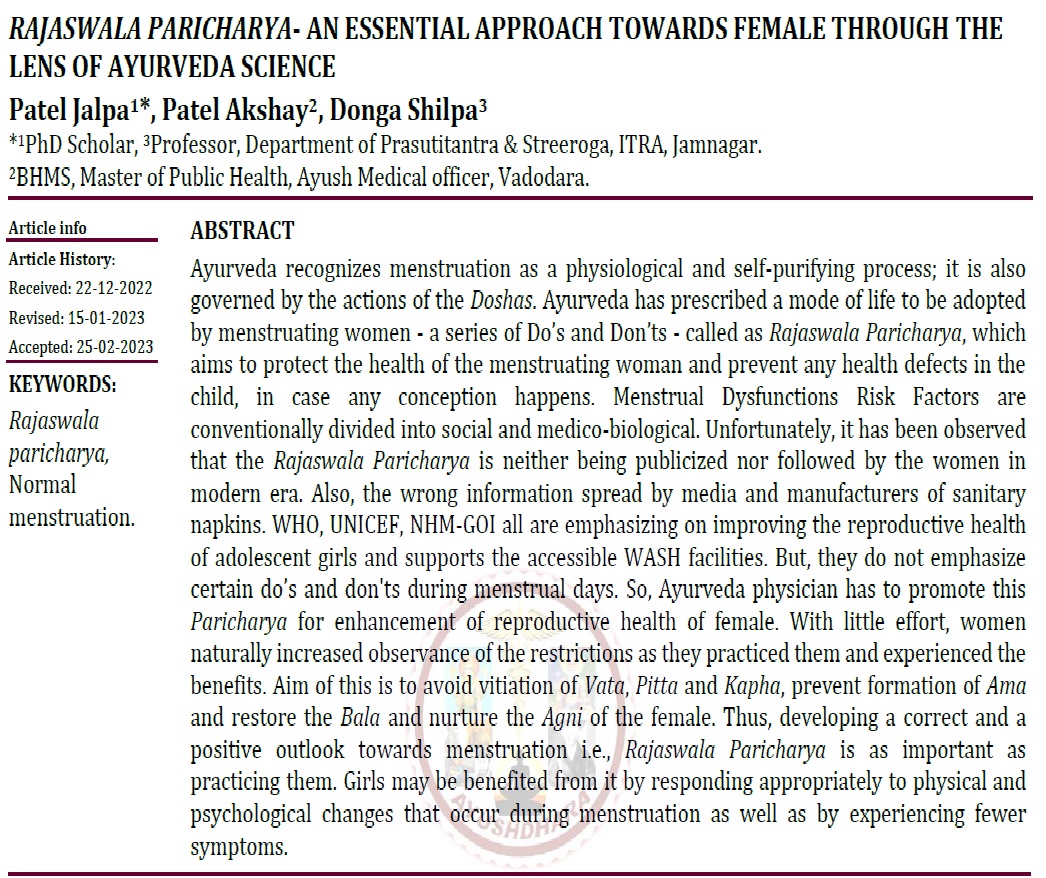 How to Cite
1.
Patel Jalpa, Patel Akshay, Donga Shilpa. Rajaswala Paricharya- An Essential Approach Towards Female Through the Lens of Ayurveda Science. ayush [Internet]. 2023Mar.6 [cited 2023Mar.21];10(Suppl1):113-8. Available from: https://ayushdhara.in/index.php/ayushdhara/article/view/1169
Copyright (c) 2023 AYUSHDHARA
This work is licensed under a Creative Commons Attribution-NonCommercial-ShareAlike 4.0 International License.