Ayurvedic Approach Towards Wolf-Hirschhorn Syndrome: A Case Report
Keywords:
Chromosomal disorder, Wolf-Hirschhorn Syndrome, Partial Deletion, Sahaja Vyadhi, Vataja Apasmara, Vyadhija Phakka.
Abstract
Wolf-Hirschhorn Syndrome is a rare chromosomal disorder caused by the partial deletion (structural aberration) of the short arm of chromosome 4. It is also known as 4P syndrome. The disease was first reported by Cooper, Hirschhorn and Wolf. The characteristic features of the patient depend on the extent of deletion of the genetic materials. The patient has craniofacial dysmorphism and the dysmorphic features are collectively known as Greek Warrior Helmet Facies. There is no direct correlation available for Wolf-Hirschhorn Syndrome in Ayurveda. Since it is a congenital pathology occurring due to chromosomal aberration it may be understood as a Sahaja vyadhi caused due to Beeja dosha. Here in this case the micro/partial deletion of genetic materials from short arm of chromosome 4 is due to the Beeja dosha that has occurred during the formation of Garbha (zygote). This Beeja dosha is responsible for the manifestation of different presentation in Wolf-Hirschhorn Syndrome which can be understood as a Vyadhi Sankara i.e., syndrome. The patient was presented with the features of facial dysmorphism, hypospadias, developmental delay and seizures. Hence the case was diagnosed as Vyadhija Phakka with Vataja Apasmara. In the present case the focus was mainly in the correction of developmental delay and to prevent the relapse of seizures. An integrated treatment protocol comprising Phakka chikitsa and Vataja Apasmara chikitsa were administered. Though there was no change in the facial dysmorphisms, but significant improvements were observed in the gross motor, language and communication milestones after the treatment.
Downloads
Download data is not yet available.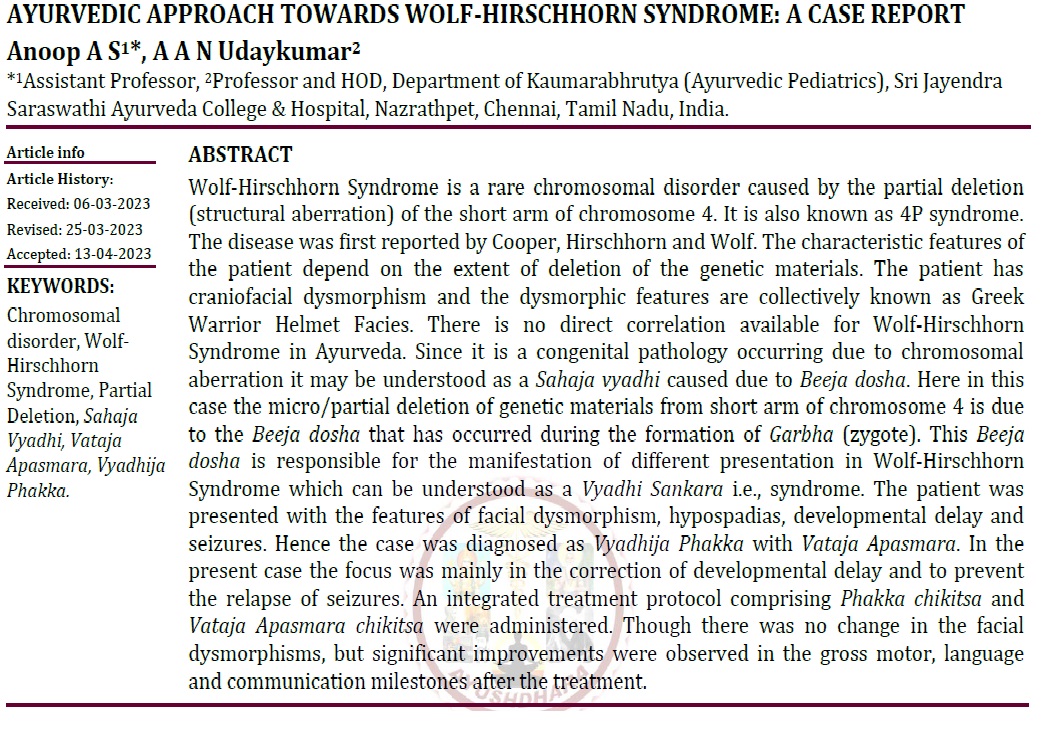 How to Cite
1.
Anoop A S, A A N Udaykumar. Ayurvedic Approach Towards Wolf-Hirschhorn Syndrome: A Case Report. ayush [Internet]. 2023May9 [cited 2023Jun.2];10(Suppl2):14-7. Available from: https://ayushdhara.in/index.php/ayushdhara/article/view/1187
Copyright (c) 2023 AYUSHDHARA
This work is licensed under a Creative Commons Attribution-NonCommercial-ShareAlike 4.0 International License.