Deepan-Pachan: The First Line of Treatment
Keywords:
Deepan, Pachan, Bioavailability, Agni, Jatharagni Aama
Abstract
The science of Ayurveda is laid upon its fundamental principles and concept. Having a holistic approach its purpose are maintenance of health and elimination of disease. For the second purpose the approach for management of the disease begins with examination of patient. Classical texts have highlighted 10 important factors to be examined before reaching a diagnosis, one of those factors is Agni. The concept of Agni is variably explained in various texts, but the fundamentals remain same. The significance of Agni can be understood, as in Ashtang hriday it is mentioned that the reason behind every disease is the weakness of this Agni. Textually as well as practically, it is seen that pathogenesis of every disease begins with weakness of Agni. Weakened Agni leads to formation of Aama which is the undigested Ahara rasa, the root cause of diseases. While the pathogenesis of diseases begins with these two steps the therapeutics will also include management of these two as a priority. Weakened Agni is managed by Deepan karma whereas Aama is managed by Pachan karma. These two Karmas form the first line of treatment in managing various disorders mostly those involving Aama dosha. Both of these karmas can be used in various stages depending upon requirement whether solely or in combination. This article attempts to highlight the significance of Deepan and Pachan karma thereby highlighting the importance of Agni in therapeutics.
Downloads
Download data is not yet available.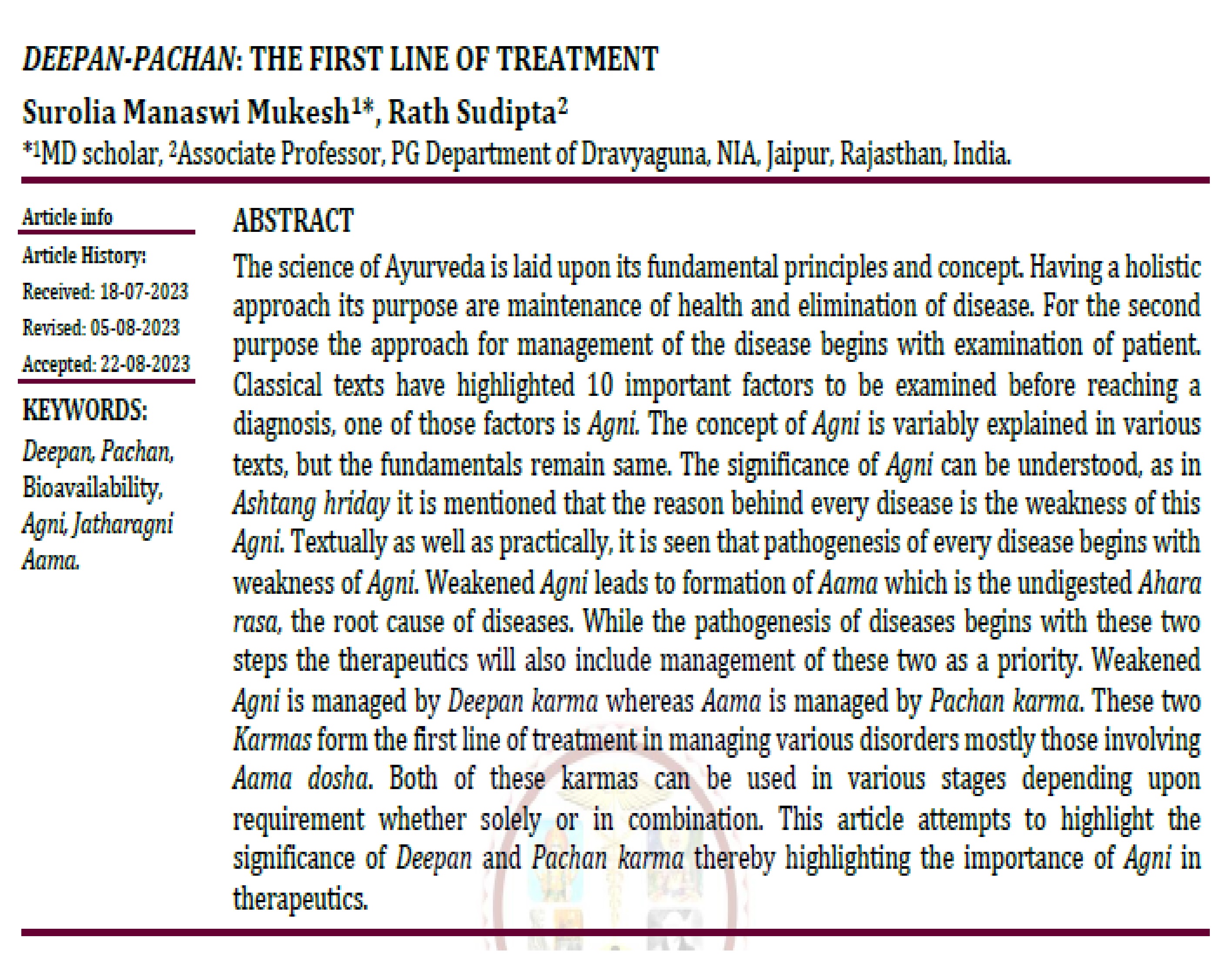 How to Cite
1.
Surolia Manaswi Mukesh, Rath Sudipta. Deepan-Pachan: The First Line of Treatment. ayush [Internet]. 2023Sep.9 [cited 2023Sep.26];10(Suppl4):91-4. Available from: https://ayushdhara.in/index.php/ayushdhara/article/view/1294
Copyright (c) 2023 AYUSHDHARA
This work is licensed under a Creative Commons Attribution-NonCommercial-ShareAlike 4.0 International License.