A Comprehensive Review of Achyranthes Aspera: Ethnopharmacology, Phytochemistry, and Therapeutic Potential
Keywords:
Achyranthes aspera, Amaranthaceae, ethnopharmacological significance, Achyranthes aspera, Phytochemical composition.
Abstract
Achyranthes aspera, commonly known as "Prickly Chaff Flower," is a medicinal plant with significant ethnopharmacological importance, deeply rooted in various traditional healing systems worldwide. This comprehensive review paper aims to consolidate and analyze the existing scientific literature on Achyranthes aspera, focusing on its ethnopharmacological significance, phytochemical composition, and diverse pharmacological activities. The plant's historical use in traditional medicine systems for the management of inflammation, wounds, gastrointestinal disorders, respiratory ailments, and pain underscores its cultural significance and therapeutic potential. Over the years, researchers have explored its bioactive compounds, which include alkaloids, flavonoids, saponins, and triterpenoids, attributing these constituents to its various pharmacological effects. The pharmacological activities of Achyranthes aspera encompass anti-inflammatory, antioxidant, antimicrobial, analgesic, and immunomodulatory properties, among others. These diverse activities have piqued the interest of pharmaceutical researchers and healthcare practitioners, making the plant a promising candidate for drug development and formulation of standardized herbal preparations. Despite its rich traditional use and growing scientific interest, the safety and toxicity of Achyranthes aspera require further investigation. Adequate toxicological studies are essential to determine safe dosage levels and potential adverse effects.
Downloads
Download data is not yet available.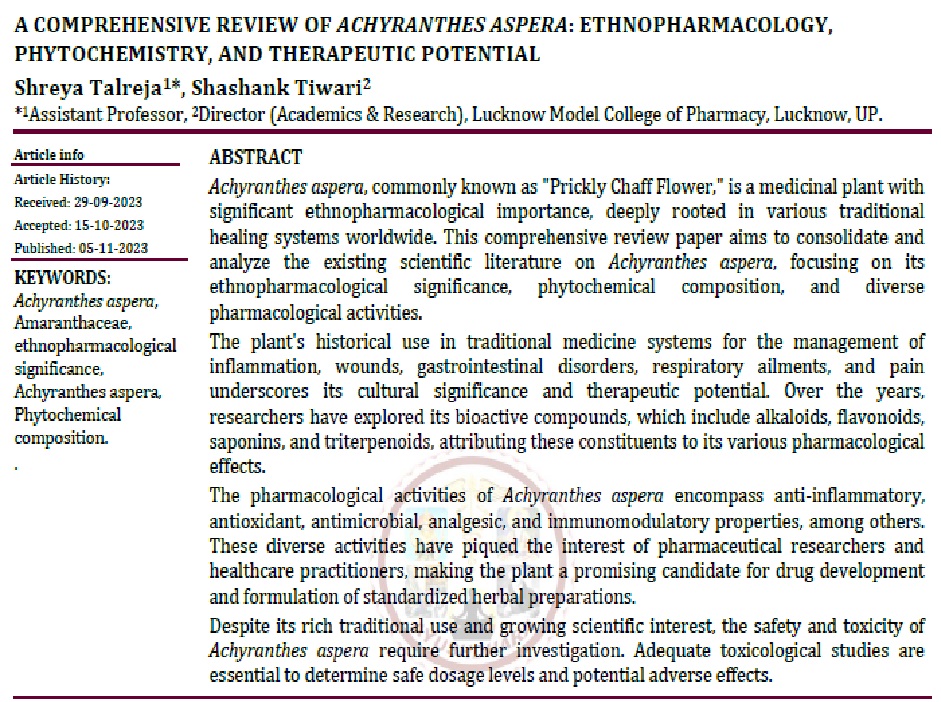 How to Cite
1.
Shreya Talreja, Shashank Tiwari. A Comprehensive Review of Achyranthes Aspera: Ethnopharmacology, Phytochemistry, and Therapeutic Potential. ayush [Internet]. 2023Nov.5 [cited 2023Dec.6];10(5):270-8. Available from: https://ayushdhara.in/index.php/ayushdhara/article/view/1368
Copyright (c) 2023 AYUSHDHARA
This work is licensed under a Creative Commons Attribution-NonCommercial-ShareAlike 4.0 International License.