Standardization of Phala Varthi an Ayurvedic Rectal Suppository
Keywords:
Phalavarthi, GIT Disorders, Udavarta, Anaha, Adhmana, Arsas, Gulma, Udara, Vibanda, Vatanulomana.
Abstract
Suppositories are solid dosage forms intended for insertion into body cavities or orifices, where they melt or dissolved to exert either local or systemic effect. Phalavarti is an Ayurvedic way of application of suppositories in rectal ailments as discussed in Samhitas. Phalavarthi is one of VatiKalpana, It is a simple homemade medicament which can be prepared with easily available ingredients, It can be used in various types of GIT disorders like Udavarta, Anaha, Adhmana, Arsas, Gulma, Udara, Vibanda, which are some of the very common problems faced by general population due to irregular dietary habits and sedentary life style leading to Mandagni. The impaired digestion is main cause for various types of systemic and metabolic disorders. In such conditions Vatanulomana is main line of management. Apart from above specified conditions, Phalavarthi preparations can also be used in Panchakarma ayoga conditions like Virechana, Niruha, Anuvasana and Uttara vasthi. Despite the fact that various types of Phalavarthi preparations have been mentioned in Ayurveda texts, they are not in regular use due to less attention and focus received on this subject. There fore the present scientific study has been taken up to overcome the practical difficulties in both preparation and application of Phala vartis with a scientific approach. Phalavarthi is a very unique concept which is far superior to modern concept of rectal suppositories, it can be administered to children, old persons and all those who cannot swallow drugs easily. Hence keeping this advantage in mind, an attempt has been made to prepare and administer Phalavarthi in GIT disorders following the guidelines of Acharya Charaka and also keeping in view of modern principles of preparation of suppositories.
Downloads
Download data is not yet available.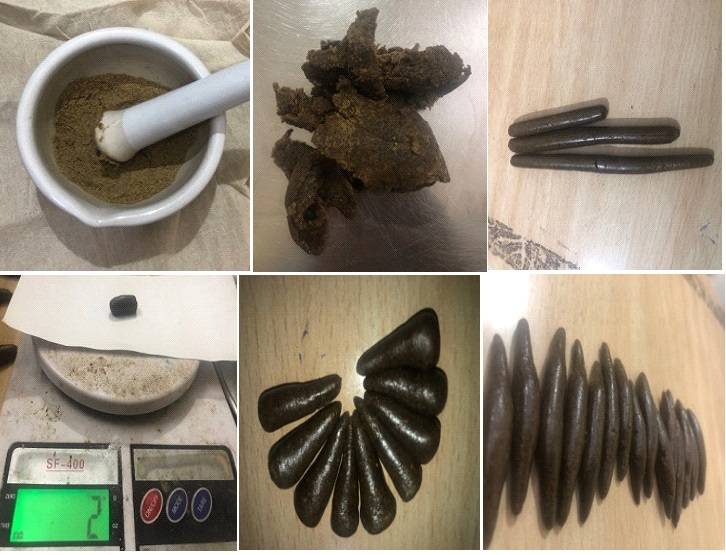 How to Cite
1.
Veldandi Saipriya, Praveen K Madikonda, AK. Sailaja, V. Balakrishna. Standardization of Phala Varthi an Ayurvedic Rectal Suppository. ayush [Internet]. 2023Nov.5 [cited 2023Dec.6];10(5):49-57. Available from: https://ayushdhara.in/index.php/ayushdhara/article/view/1379
Copyright (c) 2023 AYUSHDHARA
This work is licensed under a Creative Commons Attribution-NonCommercial-ShareAlike 4.0 International License.