Etiopathological Evaluation of Swasa Roga in Relation to Anxiety
Keywords:
Ayurveda, Swasa vyadhi, Apathya Aahar, Apathya Vihar, Pathophysiogenesis
Abstract
The modern era has seen significant changes in lifestyle that have disturbed people's physical and emotional well- being. Ayurvedic classics state that unhealthy lifestyle (Apathya Aahar and Apathya Vihar) is the root cause of all the Vyadhis. Many people go through periods of Anxiety at various occasions of their lives. Although these periods of anxiety are not permanent, if the symptoms persist for a long time, it can cause damage to both mind and body. Health is considered as a state free from mental and physical disorders. Anxiety serves as a predisposing factor for disease such as respiratory diseases. In Ayurveda respiratory disorders are mentioned under the Swasa vyadhi. Swasa roga is Vata Kaphajanye vyadhi and its aggravation is directly related to the anxiety. In the Ayurvedic classics, none of the Acharya has given any clear description regarding the role of anxiety in aggravation of Swasa roga. The lack of data drives the need to define the pathophysiogenesis of Swasa roga with respect to Anxiety in order to understand the progression of Swasa roga in a better way.
Downloads
Download data is not yet available.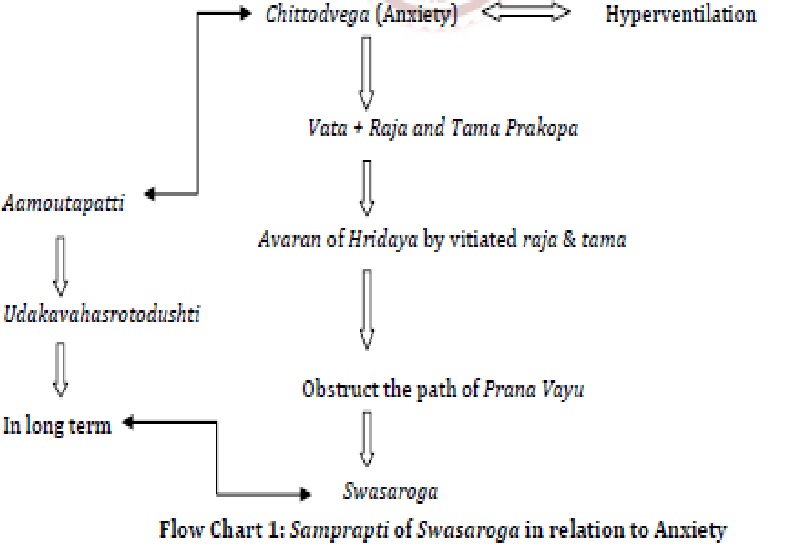 How to Cite
1.
Deepika, Deepika Bhatt, Sanjay Kumar Singh. Etiopathological Evaluation of Swasa Roga in Relation to Anxiety. ayush [Internet]. 2023Nov.5 [cited 2023Dec.6];10(5):148-50. Available from: https://ayushdhara.in/index.php/ayushdhara/article/view/1384
Copyright (c) 2023 AYUSHDHARA
This work is licensed under a Creative Commons Attribution-NonCommercial-ShareAlike 4.0 International License.