Effect of Viddha Karma in the Management of Katigata Vaat w.s.r. Lumbar Spondylosis
Keywords:
Avrodha, Avrutta vata, Katigata vata, Lumbar Spondylosis, Viddha karma, Shamana
Abstract
Lumbar spondylosis is a chronic, non-inflammatory disease caused by degeneration of Lumbar disc and/or facet joints. According to Ayurveda, it is related to Katigata vata. Due to extreme vitiation of Vata in Kati region, causes restriction in movement and pain. Patients often presents with complaints such as Pain in the lumbar region, difficulty in standing and walking, and sometimes pain radiating to legs. And the treatment usually includes NSAIDs, opioids, muscle relaxant, tractions, injections etc. Viddha karma is explained in Sushrut Samhita and it works very good in instant pain management as it helps in eradication of Avrodha (obstruction). Viddha Karma is a para surgical procedure which removes the accumulated Doshas in the human body via a pricking procedure. Clinical presentation - 72-year-old, female patient with bilateral hip region pain radiation to both legs, for 3 years came to the clinic. Patient was diagnosed with lumbar spondylosis based on X-ray of LS spine. Total 5 sessions of Viddha karma were done in an interval of one week and 6th session was done after 3 weeks. Conclusion- Patient felt 70% relief in her symptoms in the first session itself and 90% relief after the complete treatment. While the Viddha karma removed the Aavrutta vata and provided instant relief, Shaman therapy nourished the affected joints and muscles.
Downloads
Download data is not yet available.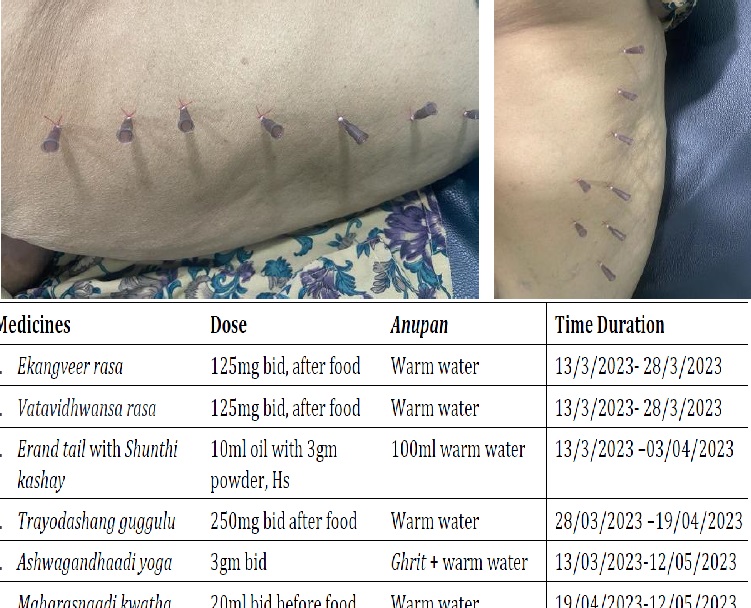 How to Cite
1.
Samin Shaikh, Sunil Bhaskare. Effect of Viddha Karma in the Management of Katigata Vaat w.s.r. Lumbar Spondylosis. ayush [Internet]. 2023Nov.5 [cited 2023Dec.6];10(5):203-7. Available from: https://ayushdhara.in/index.php/ayushdhara/article/view/1393
Copyright (c) 2023 AYUSHDHARA
This work is licensed under a Creative Commons Attribution-NonCommercial-ShareAlike 4.0 International License.