EFFECT OF SUCCESSFUL AYURVEDIC TREATMENT IN MANAGEMENT OF UTERINE FIBROID - A CASE STUDY
Keywords:
Uterine Fibroids, Granthi, Shodhan Chikitsa.
Abstract
Fibroid is the most common benign tumor of the uterus and also the most common benign solid tumor in the female. Histologically this tumor is composed of smooth muscle and fibrous connective tissue, called as uterine leiomyoma, myoma, fibromyoma. It has been estimated that at least 20% of women at age of 30 have got fibroid in their wombs. These patients may be asymptomatic or may be symptomatic. Case Description: A 35 year old female patient came in YMT Ayurvedic hospital OPD of Striroga and prasutitantra with complaining of scanty menses and pain in abdomen occasionally. The patient was Diagnosed with uterine fibroids by USG. According to Ayurveda treatment, she was given Ayurvedic oral medicines along with Panchakarma. Outcome: After six months of treatment patient showed significant relief in symptoms. There was significant reduction in symptoms like scanty menses, proper intervals in between menses. Conclusion: Significant relief can be achieved in patients of Uterine fibroid by applying Ayurvedic treatment. It is single case study and clinical trial should done in large number of patients to see the result. Aim: To Study effect of ayurvedic Chikitsa in management of uterine fibroid. Objective: To assess the Ayurvedic treatment in management of fibroids. 2. To study Granthi. 3. To study Shodhan chikitsa Methodology: It is a single case study of uterine fibroid.
Downloads
Download data is not yet available.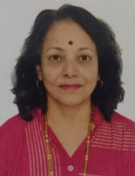 How to Cite
1.
Seema Mehere, Akanksha Mahesh Naik. EFFECT OF SUCCESSFUL AYURVEDIC TREATMENT IN MANAGEMENT OF UTERINE FIBROID - A CASE STUDY. ayush [Internet]. 2020Feb.2 [cited 2021May17];6(6):2484-7. Available from: https://ayushdhara.in/index.php/ayushdhara/article/view/509
This work is licensed under a Creative Commons Attribution-NonCommercial-ShareAlike 4.0 International License.