AYURVEDIC MANAGEMENT OF OBESE POLYCYSTIC OVARIAN SYNDROME WITH TRISHNYADILOHAM – A CASE STUDY
Keywords:
Artavkshay, Obese PCOD, Pushpaghni jaatharini, Trishnyadiloham.
Abstract
According to Ayurveda Polycystic ovarian syndrome is a disorder involving imbalance of Vata, Pitta and mainly Kaphadosha. Change in lifestyle and diet is the important part of the treatment. There are many references found in Ayurveda which coincides with PCOS. Out of Artavkshay, Arajaska yonivyapad, Vaataj artavdushti, Kshinartav, Shandhi Yonivyapad, Pushpaghni Jaatharini, Pushpaghani Jaatharini coincides with PCOS in terms of Lakshnas and Hetu. Polycystic ovarian syndrome is a Medojroga, Santarpanjanyavyadhi as per Ayurveda. Trishnyadi loham kalpa is described under Medorog chikitsa in Yogratnakar. As it has all Kapha nashak dravya, it will help to reduce fat thereby reduction in other metabolic markers of PCOS. In today's era due change in lifestyle incidence of PCOD has risen. It is very common endocrinopathy in women with reproductive age. There are four compartments involved in Polycystic ovarian syndrome. Out of that Obesity is found over 50% of patients with PCOS. A reduction in body weight of 5-10% will cause a 30% reduction in visceral fat, which is often sufficient to restore ovulation and reduce metabolic markers. So to restore normal menstruation Kaphanashak chikitsa is equally important. Along with proper diet, exercise and Trishnyadi loham will definitely help to reduce body weight and restore normal menstrual function.
Downloads
Download data is not yet available.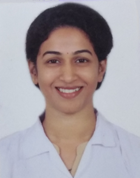 How to Cite
1.
Neha Pilankar*, Seema Mehere. AYURVEDIC MANAGEMENT OF OBESE POLYCYSTIC OVARIAN SYNDROME WITH TRISHNYADILOHAM – A CASE STUDY. ayush [Internet]. 2020Feb.2 [cited 2021May17];6(6):2495-8. Available from: https://ayushdhara.in/index.php/ayushdhara/article/view/512
This work is licensed under a Creative Commons Attribution-NonCommercial-ShareAlike 4.0 International License.