MANAGEMENT OF GARBHINI PANDU WITH DRAKSHA GHRITA AND LAKSHMANA LAUHA: A COMPARATIVE CLINICAL STUDY
Keywords:
Garbhini pandu, Iron deficiency Anaemia, Drakshadi ghrita, Lakshmana lauha.
Abstract
Anaemia during pregnancy is a major public health problem throughout the world, particularly in the developing countries. According to WHO, prevalence of anaemia in pregnant women is estimated as 14 per cent in developed and 51 percent in developing countries. In India the prevalence is 65-75 percent. Acharya Kashyapa explained that like other disorders Samprapti of Pandu is also similar in Garbhini. So all narration mentioned in Ayurvedic classics regarding Pandu is applicable to Garbhini- Pandu. In the present study total 37 patients were recruited under the study and distributed into two groups Group-A (Draksha ghrita) and Group-B (Lakshmana lauha). After completion of trial 30 patients data was only available for assessment and 07 patients were dropped out from the study due to their irregular follow-up. On analysis of results, none of the patient has showed excellent relief. 10.00% and 30.00% patient has showed moderate relief in group A & B respectively. 06.00% and 10.00% patient in A and B group showed marked relief while 06.66% and 00.00% patient in has showed mild relief in A and B group and also the 26.66% and 16.66% patient has showed no relief. When the two groups A and B were compared with each other, the percentage of relief is found higher in group B, so it implies that group B is more clinically significant than group A. Overall conclusion of this study is that Draksha Gritha and Lakshmana lauha both drugs are effective, but Lakshmana lauha is comparatively better to cure the Subjective and Objective parameter of Garbhini Pandu.
Downloads
Download data is not yet available.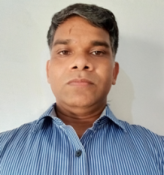 How to Cite
1.
Vishwanath Tekam, B. Pushpalatha, K. Bharathi, Sujata Kadam. MANAGEMENT OF GARBHINI PANDU WITH DRAKSHA GHRITA AND LAKSHMANA LAUHA: A COMPARATIVE CLINICAL STUDY. ayush [Internet]. 2020Sep.25 [cited 2023Nov.30];7(4):2781-90. Available from: https://ayushdhara.in/index.php/ayushdhara/article/view/609
Copyright (c) 2020 AYUSHDHARA
This work is licensed under a Creative Commons Attribution-NonCommercial-ShareAlike 4.0 International License.