Management of Male Infertility Caused by Oligospermia Using Ayurveda: A Case Report
Abstract
In India, 1 out of 10 couples suffers from infertility are owing to impaired spermatozoa production or its function, impaired sperm delivery, improper ejaculation, due to sedentary life styles and day to day stress nowadays. Male infertility can be defined as an inability to induce conception, due to defect in spermatozoic functions like low sperm count, unhealthy sperm production, low sperm motility and altered delivery of sperms due to altered physiology of male reproductive system. A 29-year-old married man was diagnosed with oligospermia, visited Shuddhi Ayurveda Clinics, Noida for his condition management and treated successfully with Ayurvedic drugs. This married couple was facing infertility issue from last 2-3 years. Patient was treated with Ayurvedic drugs and kept on strict diet monitoring for four months and results were counted in terms of improved total sperm count after treatment. Before treatment sperm count was 10 million per ml which got improved up to 90 million per ml after four months of Ayurvedic treatment with strict diet regimen. No any side effects were observed during the treatment period. Other morphological parameters of sperm were also found to be healthy and normal for fertility. From the results of this case report, Ayurvedic treatment is proved to be effective in the treatment of male infertility associated with oligospermia.
Downloads
Download data is not yet available.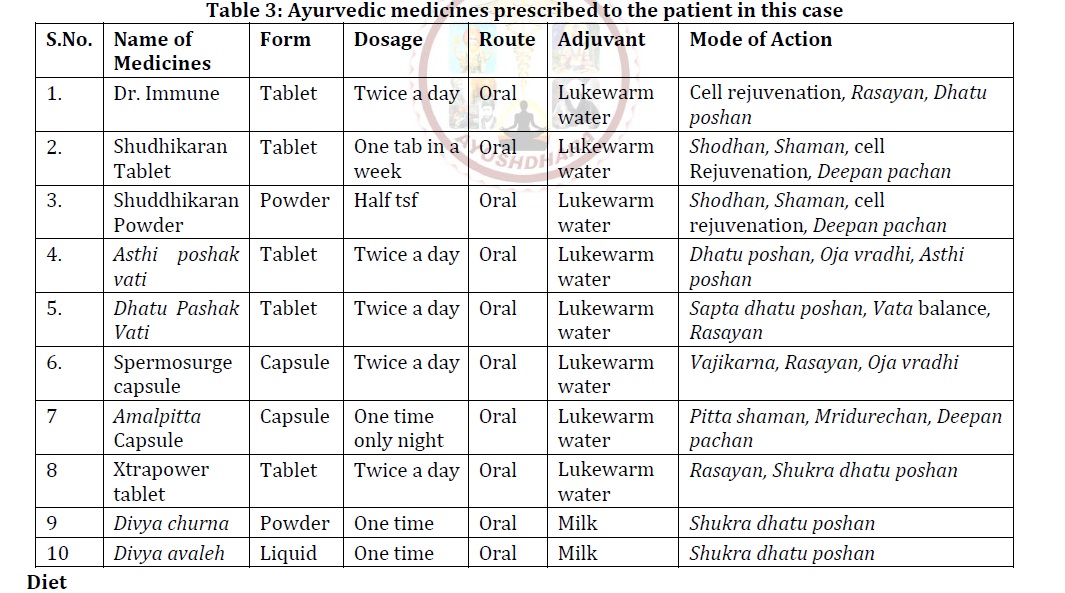 How to Cite
1.
Suyesh Partap Singh, Manish Grover, Ajeet Partap Singh. Management of Male Infertility Caused by Oligospermia Using Ayurveda: A Case Report. ayush [Internet]. 2021Sep.12 [cited 2021Oct.26];8(4):3453-6. Available from: https://ayushdhara.in/index.php/ayushdhara/article/view/774
Copyright (c) 2021 AYUSHDHARA
This work is licensed under a Creative Commons Attribution-NonCommercial-ShareAlike 4.0 International License.