Ayurvedic Management of Severe Dry Eye Syndrome & Complications: A Case Study
Keywords:
Dry Eye Syndrome, Shushkakshipaka, Nasya, Keratoconjunctivitis Sicca.
Abstract
Dry eye syndrome (DES) is a common condition that causes pain and can lead to vision problems. Modern living has given rise to a massive increase in the incidence of vision threatening dry eye disease, around 10-30% of population living in industrialized countries suffer from dry eye syndrome (DES). According to Second International Dry Eye Workshop (DEWS II) in 2017 offered dry eye as it is a multifactorial ocular surface disorder defined by a loss of tear film homeostasis and ocular symptoms, in which tear film instability and hyperosmolarity, as well as ocular surface inflammation and injury, play a part in the etiology. If it is not controlled with in time it can lead to corneal blindness. Ayurveda proposes a comprehensive systemic & topical strategy in the treatment of dry eye syndrome, in contrast to the available modern medical treatment. In this publication, a case study of a Shushkakshipaka with many complications who was treated with dynamic Ayurvedic treatments & after continuous efforts patient got very significant results is being discussed here.
Downloads
Download data is not yet available.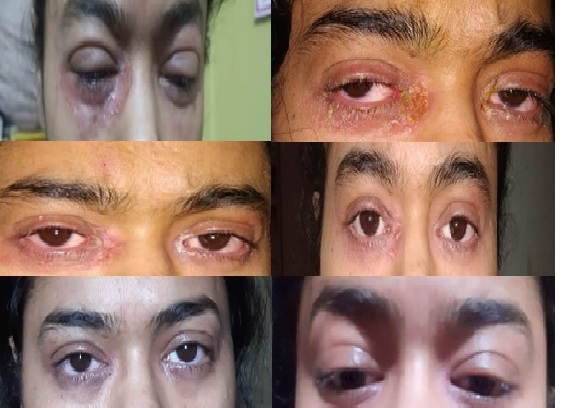 How to Cite
1.
Preeti Pahwa, Ashu Vinaik, Priya Patel, Jasmine Kaur. Ayurvedic Management of Severe Dry Eye Syndrome & Complications: A Case Study. ayush [Internet]. 2021Nov.15 [cited 2022Jan.20];8(5):3542-6. Available from: https://ayushdhara.in/index.php/ayushdhara/article/view/815
Copyright (c) 2021 AYUSHDHARA
This work is licensed under a Creative Commons Attribution-NonCommercial-ShareAlike 4.0 International License.