Concept of Hyperlipidemia in Ayurveda
Keywords:
Hyperlipidemia, Meda Roga, Meda Baha Srotodusti, Atisthaulya, Meda in Ayurveda
Abstract
Hyperlipidemia is a clinical terminology represents excessive tiers of fat or lipids in the blood, which consist of cholesterol and triglycerides. Hyperlipidemia can be inherited due sedentary life lead. As opposed to the excessive cholesterol hyperlipidemia consists of hypertriglyceridemia and high rise of triglyceride and cholesterol indicates mixed hyperlipidemia. Meda is a very crucial component included in the category of Dhatu. It may be correlated with fats or lipids in modern medical parameters. Meda Dhatu has an extensive role for various metabolic disorders like obesity, Diabetes Mellitus in phrases of Sthaulya, Prameha due to excessive deposition of Meda. Aims & Objective: Etiology, pathophysiology and principle management of hyperlipidemia with correlation to Meda Roga. It also highlights the role Ayurveda fraternity for the sake of early diagnosis and correct management of diagnosed case of hyperlipidemia or Meda Roga through Ayurveda. Materials & Method: The literal review carried out by collecting the literature and research finding from various classical and modern text book, online reports and online research articles in Google Search and PubMed Database. Results: Hyperlipidemia or Meda Roga is a burning issue with underlying critical pathology correlated to Medabaha Sroto Dusti, lead to serious illnesses and ultimately death. Conclusion: Hyperlipidemia and Meda Roga in Ayurveda may be correlated. Hyperlipidemia stands for cardiovascular issues given that last decades as a result of lifestyle modification. Present study attempts to correlate the relation among lipids and Meda Dhatu
Downloads
Download data is not yet available.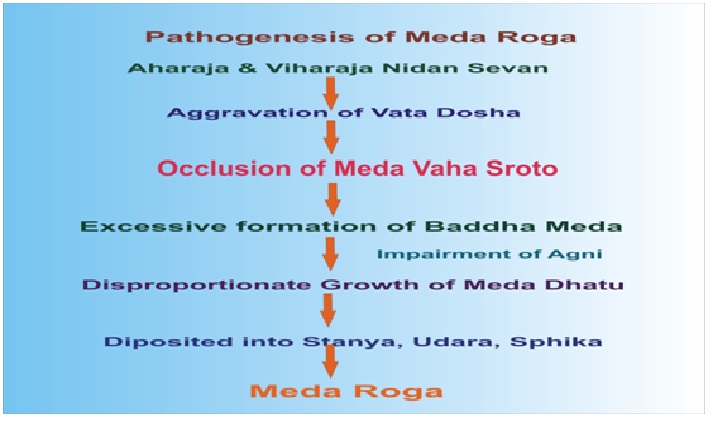 How to Cite
1.
Chiranjit Biswas, Supriyo Chaudhuri, Tapan Ghosh. Concept of Hyperlipidemia in Ayurveda. ayush [Internet]. 2022Apr.4 [cited 2022May24];9(1):55-62. Available from: https://ayushdhara.in/index.php/ayushdhara/article/view/863
Copyright (c) 2022 AYUSHDHARA
This work is licensed under a Creative Commons Attribution-NonCommercial-ShareAlike 4.0 International License.