The Effect of Agnikarma with Ashtapada Shaped Suvarna Shalaka in Manyastambh- A Case Study
Abstract
Manyastambh is a medical disorder in which the back of neck becomes stiff and movements of the neck are diminished. We can correlate it with cervical spondylosis. Cervical Spondylosis is one of the commonest deteriorative states of cervical spine. Its pathology begins at the intervertebral disc (fibrocartilage) with decadence of disc resulting in the compression of cervical nerve along with decreasing of space. Pain that occurs may extend from mild ache to severe dysfunctioning. This condition affects not only the socio economic state of a person but also impedes the quality of life with change in lifestyle. According to Ayurvedic text. In case of severe pain localized in skin, muscles, ligaments and joints, we can do Agnikarma. In the present case, a 30 years old female patient came to the OPD of Shri Krishna Government Ayurvedic College & Hospital, Kurukshetra, Haryana with complaints of pain in the back of neck,difficulty in neck movements specially flexion of the neck and radiating pain in the left shoulder since last four months. So, after taking proper history, clinical examination and investigations (X Ray) the case diagnosed as Manyastambh and patient was treated with Ayurvedic parasurgical procedure i.e., Agnikarma with Ashtapada shaped Suvarna shalaka. We got really significant result after this study. Hence, through this article, we tried our best to establish the effect of Agnikarma with Ashtapada shaped Suvarna shalaka in case of Manyastambh.
Downloads
Download data is not yet available.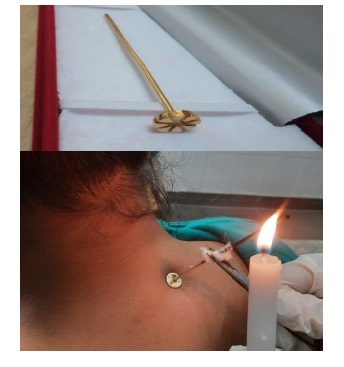 How to Cite
1.
Gupta Monika, Gujjarwar Shriniwas, Singh Rajender, Anamika. The Effect of Agnikarma with Ashtapada Shaped Suvarna Shalaka in Manyastambh- A Case Study. ayush [Internet]. 2022Apr.4 [cited 2022May24];9(1):51-4. Available from: https://ayushdhara.in/index.php/ayushdhara/article/view/865
Copyright (c) 2022 AYUSHDHARA
This work is licensed under a Creative Commons Attribution-NonCommercial-ShareAlike 4.0 International License.