Ayurveda in Management of Iron Deficiency Anemia: A Case Report
Keywords:
Anemia, Pandu roga, hemoglobin, Iron deficiency anemia
Abstract
Nutritional iron deficiency anemia is the most common cause of anemia and a global public health problem among young children and pregnant women. Blood loss, malabsorption is the common cause of iron deficiency anemia. Pandu roga is a clinical entity with great resemblance to iron deficiency anemia. Pandu roga is Pitta pradhan vyadhi. In Pandu roga tissue metabolism gets affected due to vitiated Doshas which in turn into Dhatu- shyathilya in all Dhatu. There is a predominance of paleness all over the body. Rasavaha and Raktavahasrotasas are chiefly involved in the pathogenesis of Pandu. So, here is a case report of 21 years old female patient with iron deficiency anemia who was given Ayurvedic formulations in the line of treatment of Pandu roga along with dietary supplements rich in iron for a period of one month and marked improvement in symptoms (i.e., swelling was reduced, pallor absent, she was feeling energetic, hair fall (10 strands/day), palpitation had also decreased) with increase in hemoglobin level (i.e., from 8.6g/dl to 12.7g/dl) in a very short duration of time. The formulations help in breaking the Samprapti of Pandu roga. This shows the efficacy of Ayurvedic medicine in the treatment of iron deficiency anemia (Pandu).
Downloads
Download data is not yet available.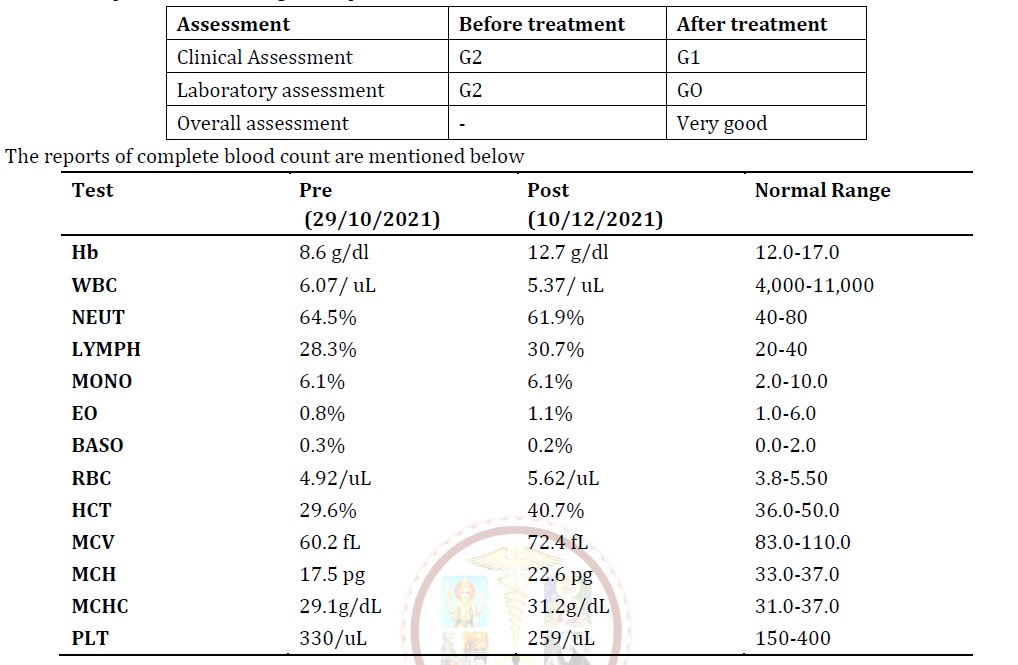 How to Cite
1.
Shreya Joshi, Abhishek Bhushan Sharma. Ayurveda in Management of Iron Deficiency Anemia: A Case Report. ayush [Internet]. 2022Apr.4 [cited 2022Oct.6];9(1):46-50. Available from: https://ayushdhara.in/index.php/ayushdhara/article/view/867
Copyright (c) 2022 AYUSHDHARA
This work is licensed under a Creative Commons Attribution-NonCommercial-ShareAlike 4.0 International License.