Clinical Study on Pippalyadi Kshara Gutika in Thamak Shwasa
Abstract
As day to day life of man has been completely ruined because of increasing pollution, urbanization, improper food habits, stressful life style, change in climatic conditions. These all factors parallel the increase in respiratory allergy. Symptoms of Thamaka Shwasa is quite similar to that of Bronchial Asthma. According to W.H.O between 100 to 150 million people around the world suffer from asthma and India has estimated 15-20 million asthmatics and this number is rising. Thamaka Shwasa is one among five varieties of Shwasa characterized by Ati Teevra Shwasa, Kasa, Ghurghuraka Shabdha, Pinasa etc. It is Kapha Vata Pradhana Vyadhi. Basic line of treatment in Thamaka Shwasa is Kapha Vata Hara, Ushna and Vata Anulomana. So in the present study Pippalyadi Kshara Gutika is considered, that contains Pippali, Maricha, Guda, Yavakshara and Jambira Swarasa, which has main action of Vata Kapha Hara, Ushna and Vata Anulomana. The selected combination is supposed to be affective in disrupting the etiopathogenesis of Thamaka Shwasa. So undertaking this trial with title "A clinical study of Pippalyadi Kshara Gutika in Thamaka Shwasa", as the contents are easily available, cost effective and will be useful for society. Materials & Methods: In this study a total of 30 patients suffering from Thamak Shwasa who fulfilled the inclusion criteria were selected and were treated with Pippalyadi Kshara Gutika. Result: In overall effect of treatment in Thamaka Shwasa out of 30 patients in this study 3 patients (10%) got Kinchit Shamana (mild improvement), 5 patients (17%) got Amshika Shamana (moderate improvement), 20 patients (67%) got Prayika Shamana (marked improvement) and 2 patients (6%) got Shamana (complete remission). None of the patients got Guna Alabha (no change) overall effect of the treatment is 66.06%.
Downloads
Download data is not yet available.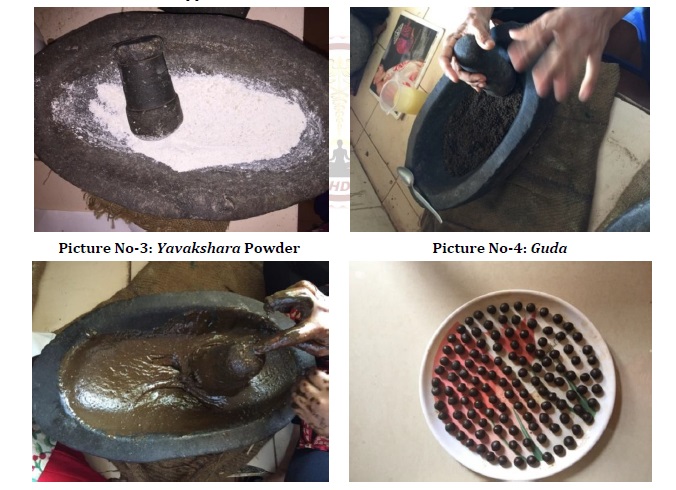 How to Cite
1.
Nikita Sharma. Clinical Study on Pippalyadi Kshara Gutika in Thamak Shwasa. ayush [Internet]. 2022May12 [cited 2023Sep.28];9(2):12-25. Available from: https://ayushdhara.in/index.php/ayushdhara/article/view/873
Copyright (c) 2022 AYUSHDHARA
This work is licensed under a Creative Commons Attribution-NonCommercial-ShareAlike 4.0 International License.