A Study of Microbial Contamination in Sanjivani Vati, A Cow Urine Prepared Drug
Abstract
Gomutra (Cow urine) has been used in various diseases as a medicine since long. It is recommended alone or in combination with other herbal drugs. Sanjivani vati is a popular Ayurvedic drug described in various classical and official text of Ayurveda and it is a very good example of that combination. It has equal parts of Vidanga, Sunthi, Pippali, Haritaki, Amalaki, Vibhitaki, Vaca, Guduchi, Bhallataka and Vatsanabha. Gomutra (Cow urine) is an ingredient that is used to levigate the powder of all herbal drugs and helps in making pills.
Microbial contamination is defined as deterioration of pharmaceutical products by the microbes. In the pharmaceutics, various factors may be as a source of microbes. Preparation of drug is a long process and occurring in open environment. A big number of machine and man power are involved in this production. All these factors including ingredients of drug may contribute the deterioration of the drugs due to contamination of microbes. Even though fresh Cow urine is sterile, it may be prone to contamination and it may produce microbial load during processing of various formulations. Microbial growth may develop in the Sanjivani Vati that encompasses cow urine as an ingredient.
The primary objective of this study was to determine microbial load. Sanjivani Vati was made in the institute pharmacy and evaluated for microbial load through outsource lab. Another market sample of Sanjivani Vati of a pharmacy was also evaluated to compare the results.
Quantitative and qualitative assessment of microbial loads in Sanjivani Vati was assessed. The following strains of microbes E. Coli, Salmonella spp., Staphylococcus aureus, Fungus, and Total viable aerobic bacterial count were evaluated. Both the sample of Sanjivani Vati has shown insignificant load of selected microbes.
Downloads
Download data is not yet available.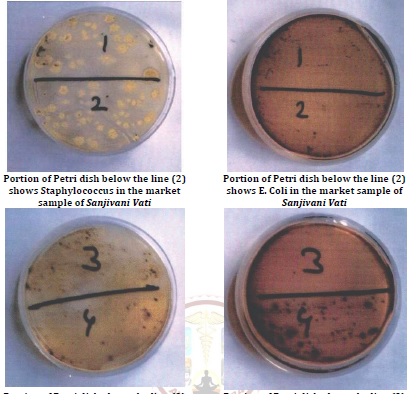 How to Cite
1.
Tewari V, Deepika Tewari. A Study of Microbial Contamination in Sanjivani Vati, A Cow Urine Prepared Drug. ayush [Internet]. 2022Apr.4 [cited 2022May24];9(1):1-6. Available from: https://ayushdhara.in/index.php/ayushdhara/article/view/884
Copyright (c) 2022 AYUSHDHARA
This work is licensed under a Creative Commons Attribution-NonCommercial-ShareAlike 4.0 International License.