A Case Study on Avbahuka w.s.r to Frozen Shoulder
Keywords:
Avbahuka, Agnikarma, Bala, Frozen shoulder
Abstract
Avbahuka is a disease caused by vitiation of Vatadosha in the Ansa Pradesha or Ansa Sandhi (shoulder joint). It affects the Bahugata Siras by constricting them, further causing Shoola (pain), and Bahupraspanditahara (stiffness) causing restriction in the motion of shoulder joint. The symptomatology of disease Avbahuka closely resembles frozen shoulder or adhesive capsulitis in modern medical science. The hallmark sign of this disease is severe pain especially when the patient moves the affected arm. Also, gradually there is restriction in the range of motion of shoulder joint. This is a disease that highly hampers one's way of living by causing hindrances in personal and professional life both. So, there is a need to find immediate relief as well as long lasting effective treatment for the patient. The present single case study was done to evaluate the efficacy of Agnikarma and Balamoolghanvati in the treatment of disease Avbahuka. The study was carried out at Shalya Tantra OPD of Gurukul Campus, Haridwar, Uttarakhand. A female patient came up with complaint of pain and stiffness along with loss of motion of right shoulder joint since last 1 year. After taking the history and doing the necessary investigations she was diagnosed as a case of frozen shoulder. Agnikarma and Balamoolghanvati was advised to patient for duration of 2 months. Proper assessment before, during and after treatment was done with follow up period of 1 month. Patient got significant relief just after the treatment only and after 15 days the range of motion gradually increased without much pain in the joint. The symptoms almost got dwindled after the 2 months of study with contentment to the patient.
Downloads
Download data is not yet available.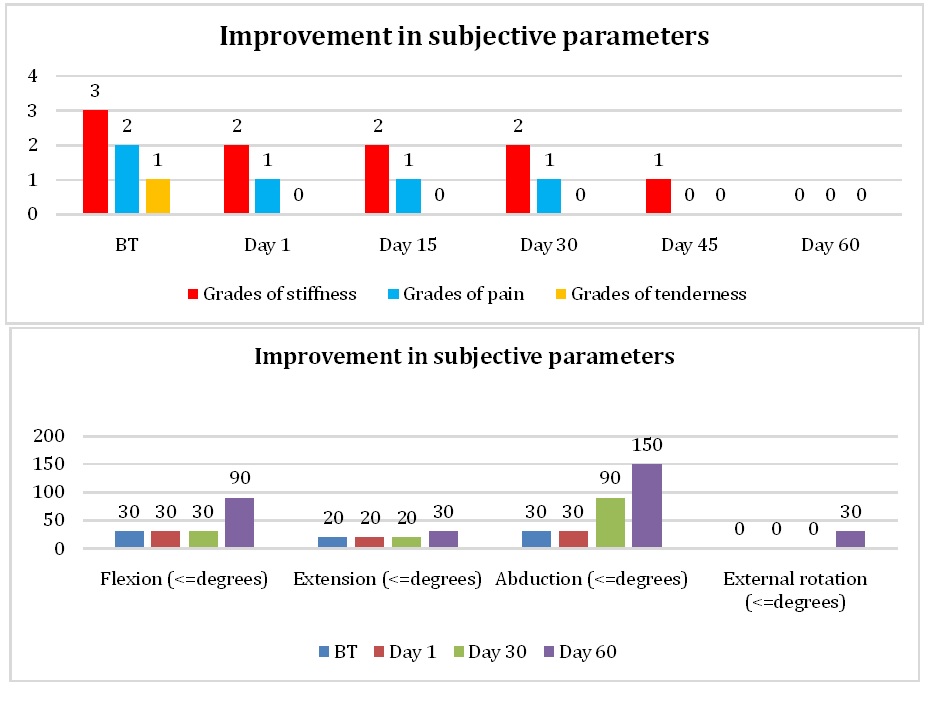 How to Cite
1.
Neha Uniyal, Pankaj Kumar Sharma, Sunil Gupta, Shishir Prasad. A Case Study on Avbahuka w.s.r to Frozen Shoulder. ayush [Internet]. 2022May12 [cited 2023Nov.30];9(2):90-6. Available from: https://ayushdhara.in/index.php/ayushdhara/article/view/894
Copyright (c) 2022 AYUSHDHARA
This work is licensed under a Creative Commons Attribution-NonCommercial-ShareAlike 4.0 International License.