Evo-Ayu: Integrating Ayurveda with Evolutionary Biology
Keywords:
Natural Selection, Evolution, Jaraa, Antagonistic pleiotropy, Genetic conflict
Abstract
Evolution refers to a change in the relative frequency of alternative alleles in a population or species. Evolutionary biology studies evolution at two levels- micro-evolution and macro-evolution. Micro-evolution studies the processes that change allele frequency over time within a population. Macro-evolution studies the tree of life. Using the concepts from evolutionary biology to understand human health and disease is the basis of evolutionary medicine. Evolutionary medicine has improved our understanding of infectious diseases, genetics, ageing etc. Would an integration of evolutionary ideas with Ayurveda be equally rewarding? Ayurveda accepts Saankhya philosophy's ideas about the origin of life. Satkaarya Vaada, which forms the basis of Ayurvedic understanding of disease and health, doesn't provide satisfying answers to the cardinal problem of evolutionary biology - the appearance of design in the living world. Ayurvedic ideas about inheritance also contradict the germ-plasm theory of inheritance. Yet, Ayurveda has much to contribute to the study of phenotypes. Ayurvedic concepts of Deha-prakriti, Saara, Desha etc. provide exciting opportunities to test evolutionary principles within the Ayurvedic framework. Integrating Ayurveda with Evolutionary biology could help us rethink Ayurvedic concepts in the light of evolution.
Downloads
Download data is not yet available.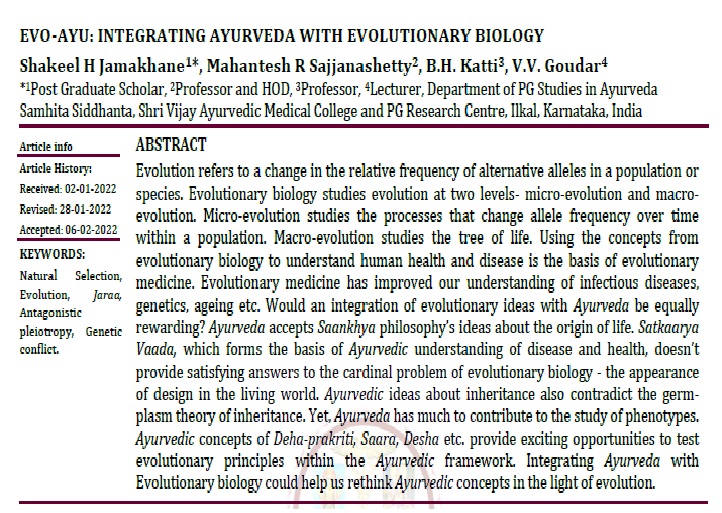 How to Cite
1.
Shakeel H Jamakhane, Mahantesh R Sajjanashetty, B.H. Katti, V.V. Goudar. Evo-Ayu: Integrating Ayurveda with Evolutionary Biology. ayush [Internet]. 2022Apr.4 [cited 2022Oct.6];9(1):80-7. Available from: https://ayushdhara.in/index.php/ayushdhara/article/view/901
Copyright (c) 2022 AYUSHDHARA
This work is licensed under a Creative Commons Attribution-NonCommercial-ShareAlike 4.0 International License.