Pharmacovigilance for Non-Poisonous Herbal Drugs
Keywords:
Pharmacovigilance, Herbal Drugs, Dravyapareeksha Vidhi, ADRs- Adverse drug reactions.
Abstract
Background: An increased importance for the pharmacovigilance of herbal medicines is seen in current times because of the growing demand for the herbal products and herbal medicines globally.
Design: This involves an in-depth study of pharmacovigilance of herbal drugs from the sources such as PubMed, Google Scholar, websites etc. and also classical Ayurvedic Granthas like Charaka Samhita, Sushrutha Samhita, Ashtanga Hridaya and Dravyaguna Vijnana etc
Observations: Knowledge of Aushadha Dravya with respect to its Nama (nomenclature), Rupa (morphology), Guna (qualities of the drug) includes all the factors that prevents adverse drug reactions.
Conclusion: The integration including classical methods of safety assessment tools and modern technology together if adopted, the general notion of public i.e., herbal drugs are safe can be made true. Thus, even a poisonous drug can be used in therapeutics just like ambrosia for a specific diseased condition without any adverse effect as told in Ayurveda
Downloads
Download data is not yet available.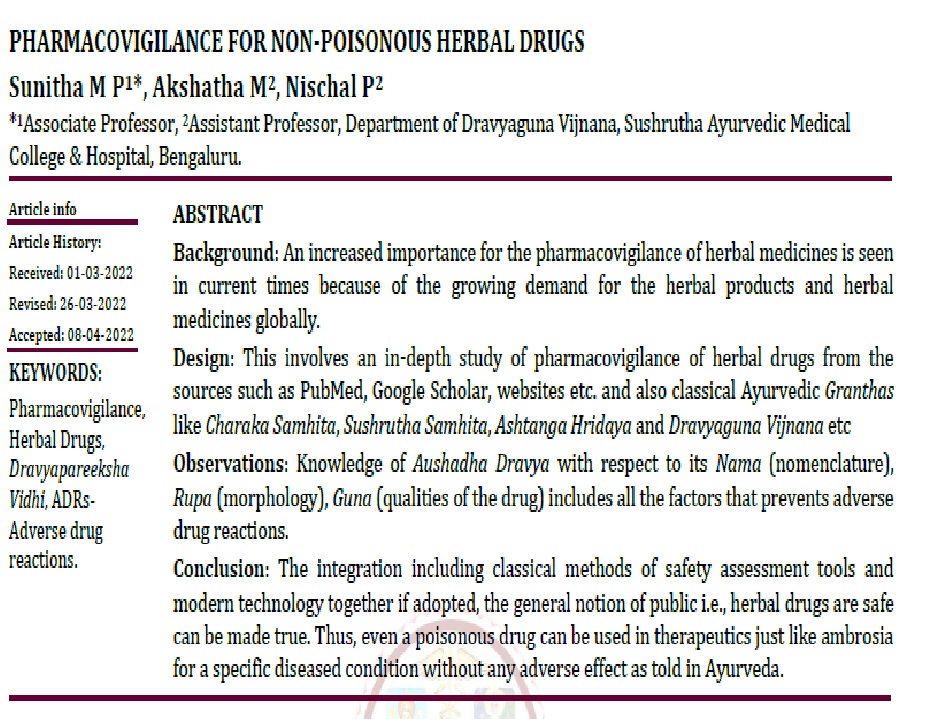 How to Cite
1.
Sunitha M P, Akshatha M, Nischal P. Pharmacovigilance for Non-Poisonous Herbal Drugs. ayush [Internet]. 2022May12 [cited 2023Jan.30];9(2):117-23. Available from: https://ayushdhara.in/index.php/ayushdhara/article/view/929
Copyright (c) 2022 AYUSHDHARA
This work is licensed under a Creative Commons Attribution-NonCommercial-ShareAlike 4.0 International License.