A Study on the Peripheral Atmosphere Supporting Lotus Flower of India's Backwater- Kerala
Keywords:
Kerala, Lotus, Backwaters, Vembanad, Tea.
Abstract
Lotus flowers from Kerala's Vembanad Lake have been extracted from specific core water locations along with water samples and has been analysed in order to develop dried Lotus Tea as in Bags with name as "Indian Pankaj" that will help in health-related issues as being a natural treatment for disorders like insomnia, high cholesterol, diabetes, anxiety, stress etc., being a part of daily routine. It is found that the water supporting these lotus petals from Vembanad lake is having traces of calcium, magnesium, chloride, sulphate, silicate, sodium, bicarbonate and potassium in good content, rich in antioxidants along with essential nutrients to support white blood cells, the fluid mechanism, the immune transporter which ensures that the atmosphere of lake is full of essential minerals in order to support this lotus tea from Kerala, Backwaters. Too, because of the Vitamin D enrichment making these water lilies exceptional as they used to bloom in the first half of morning and used to shut down slowly when approaching to evening i.e., it functions according to the sunrise with sunlight. Observed the same when brought to room temperature for testing and trials. Pictures are enclosed in the paper. As we know that sunlight in its own is a therapy for so many diseases. Drinking Vitamin D enriched water is eligible to remove deficiencies of bones and blood via purification. Therefore, in this study, it is suggested to drink this beverage containing lotus extracts that will be able to develop a strong metabolism against certain infections and disorders in order to maintain a healthy medicine free living. Lastly, but not at least, would like to add up via saying- Let food be your first medicine and kitchen be your pharmacy. That's the power of Lotus Petals.
Downloads
Download data is not yet available.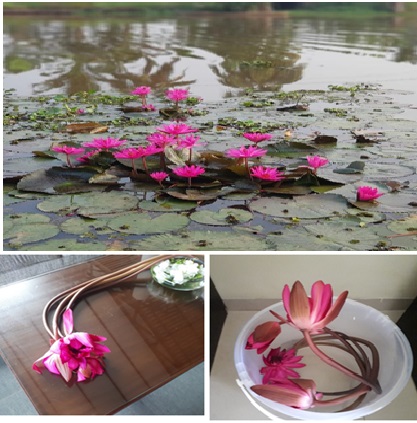 How to Cite
1.
Yamini, SR Singara Subramanian. A Study on the Peripheral Atmosphere Supporting Lotus Flower of India's Backwater- Kerala. ayush [Internet]. 2022Jul.8 [cited 2023Mar.24];9(3):9-13. Available from: https://ayushdhara.in/index.php/ayushdhara/article/view/956
Copyright (c) 2022 AYUSHDHARA
This work is licensed under a Creative Commons Attribution-NonCommercial-ShareAlike 4.0 International License.