Tarpana - A Novel Ocular Modality and its Unfathomable Potential
Keywords:
Netra, Kriyakalpa, Akshi tarpana, Tarpana yogas
Abstract
Ayurveda, a science that is Anadi and Ananta that comprises an answer for each and every question that mankind comes across in the form of ailments. Vision is a true gift to mankind and is rightly the window to our soul whose functionality determines the essence and quality of one's life. Shalakya tantra is one among the Ashtangas of Ayurveda that emphasises about Urdhwajatrugata vikaras and their Chikitsa. It also emphasises the importance of the most indispensable sensory organ which is the Netra. As Ashtangakara rightfully mentions metaphorically that a man should make consistent efforts to protect his eyesight as for a blind person, though he is rich, day and night are equal and entire world seems to be useless.
One of the most significant modalities of Bahirparimarjana chikitsa in Shalakya tantra is Kriyakalpa. Kriyakalpas are a group of local ocular therapeutic procedures done with specific formulations which are used to treat different diseases. Kriya means a special therapeutic procedure and Kalpa means formulations.
One of the Kriyakalpas that is of paramount importance with respect to ocular health is Akshi tarpana in which medicated ghee is kept over the eyes for a specific period of time. This article mainly aims to traverse the concept of Akshi tarpana with different Yogas and its mode of action and its potential to give us clarity in terms of vision, quite literally
Downloads
Download data is not yet available.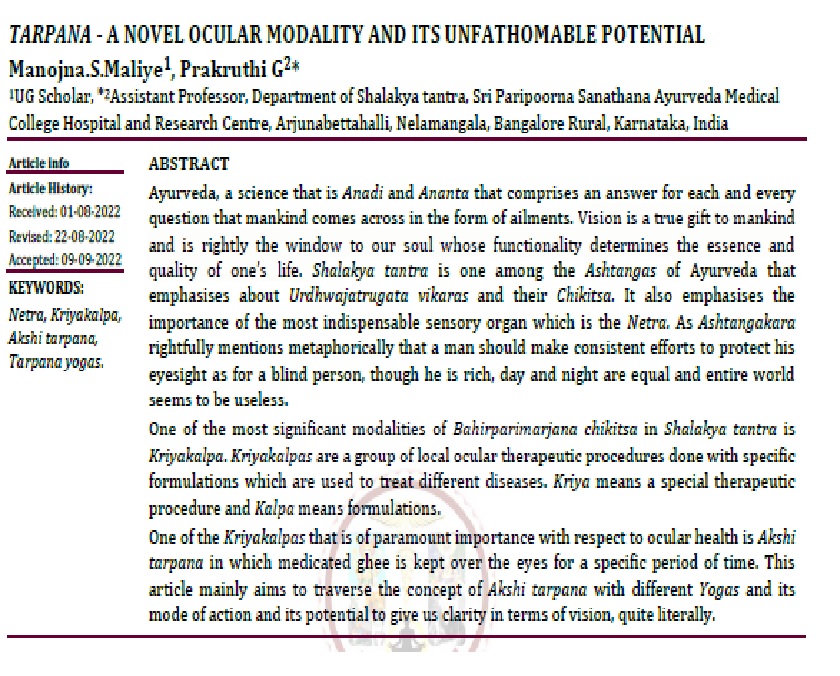 How to Cite
1.
Manojna.S.Maliye, Prakruthi G. Tarpana - A Novel Ocular Modality and its Unfathomable Potential. ayush [Internet]. 2022Sep.28 [cited 2023Jun.6];9(4):83-91. Available from: https://ayushdhara.in/index.php/ayushdhara/article/view/1028
Copyright (c) 2022 AYUSHDHARA
This work is licensed under a Creative Commons Attribution-NonCommercial-ShareAlike 4.0 International License.