Ayurvedic Review of Post Covid Anxiety Disorder w.s.r to Chittodvega
Keywords:
COVID-19, mental health, depression, anxiety, Chittodvega
Abstract
The post-COVID-19 situation occurs in people with a record of probably or showed SARS-CoV-2 infection, usually, three months from the onset of COVID-19 with signs that last for at least 2 months and it is not always explained by an alternative diagnosis.
The global community is concerned about Post Coronavirus disease 2019 (COVID-19) complications and their impact on mental health. It is going to impact various spheres of life such as the economy, industries, worldwide market, human health, health care etc. It has also induced impairments in work and social functioning which leads to the elevation of mental disorders like stress, anxiety and depression among well-being. Objective: Since anxiety is not described specifically in Ayurveda but is only found as a symptomatic description, this article attempt to study the disease Post COVID Anxiety disorder and its symptomatology and pathogenesis (Samprapti) in Ayurveda. Data source: Charaka Samhita, Sushruta Samhita, Vagabhata Samhita and modern medical textbooks, scientific journals and online databases. Review Methods: The classical textbooks and modern textbooks and various scientific journals and other databases were reviewed manually. Results: Post Covid complications of anxiety can cause serious mental health issues, and has a huge impact on societies. Conclusion: The study intends to study the causes of mental health disorders (Chittodvega) in post covid patients.
Downloads
Download data is not yet available.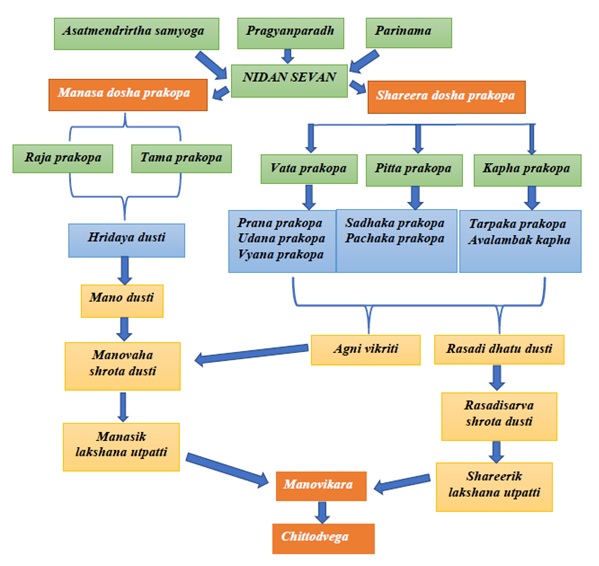 How to Cite
1.
Priyanka Meena, Gauri Jadhav, Geetanjali Sahu, Rahul Kothiyal, Surendra Kumar Sharma. Ayurvedic Review of Post Covid Anxiety Disorder w.s.r to Chittodvega. ayush [Internet]. 2022Dec.3 [cited 2023Feb.1];9(Suppl2):24-8. Available from: https://ayushdhara.in/index.php/ayushdhara/article/view/1039
Copyright (c) 2022 AYUSHDHARA
This work is licensed under a Creative Commons Attribution-NonCommercial-ShareAlike 4.0 International License.