Analytical Study of Aaharaja Nidana of Madhumeha in Current Era
Keywords:
Ayurveda, Aaharaj nidan, Change in lifestyle, Diabetes, Madhumeha.
Abstract
Madhumeha is a metabolic disorder in which a person passes honey-like (sweet) urine and is associated with the characteristic of urinary abnormality. The clinical conditions described in Madhumeha have much in common with diabetes mellitus which is recognized by hyperglycemia due to improper insulin secretion, insulin resistance, or both. Diabetes mellitus lowers the quality of life, greatly increases medical expenses and increases the disease-related death rate. Excess indulgence in curd, the meat of domestic animals, aquatic animals, fish, dairy products, newly harvested grains, and jaggery products in recent lifestyle are leading causes of Madhumeha. Therefore, it has become necessary that in the present era, we should have proper information regarding wholesome diet along with its nutritional value so that we could avoid impending disease and manage it accordingly. Source: Various classical texts like Charaka Samhita, Astanga Hridaya, Shushrata Samhita, Madhava nidana, and modern medical textbooks and online databases. Conclusion- Diet having Madhur, Guru, Snigdha, Picchil, and Abhisyandi properties produces Kapha which vitiates the Tri-doshas & Kleda dusti that causes the disease. Aim: To study and analyze the Aharaja Nidana of Madhumeha in the present era and manage it accordingly by adopting a diet which is suitable for the Madhumeha Rogi, Objective: To study the Glycemic index, carbohydrate and other nutritional value of the food articles that are usually taken on daily basis. Material And Methods: The Bruhattrayi & Laghuttrayi, modern medical textbooks, journals and online database. Results & Conclusion: Ayurveda not only cures the disease but can also prevent it through the knowledge of Aharaj and Viharaja nidana. Nidana parivarajana helps to manage the disease.
Downloads
Download data is not yet available.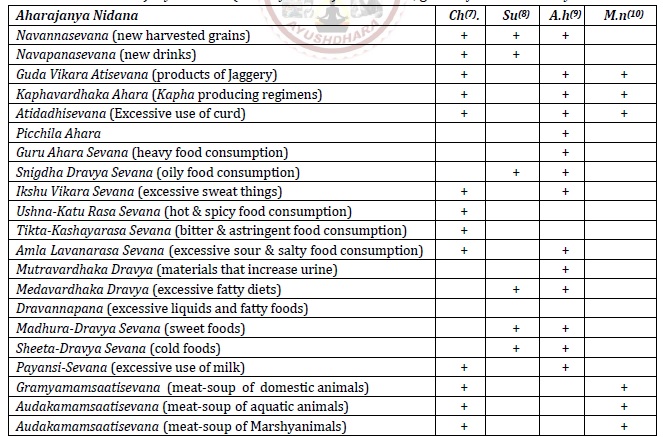 How to Cite
1.
Divya Pathak, Naresh Itani, Komal Keshwa, Surendra Kumar Sharma, Manita Ahlawat. Analytical Study of Aaharaja Nidana of Madhumeha in Current Era. ayush [Internet]. 2023Jan.15 [cited 2023Sep.25];9(6):94-9. Available from: https://ayushdhara.in/index.php/ayushdhara/article/view/1102
Copyright (c) 2022 AYUSHDHARA
This work is licensed under a Creative Commons Attribution-NonCommercial-ShareAlike 4.0 International License.