A Randomized Controlled Clinical Trial of Vijayadi - Vati on Kashtartava (Primary Dysmenorrhoea)
Keywords:
Kashtartava, Primary dysmenorrhoea, Vijayadi vati, Ashwagandha choorna.
Abstract
Nowadays Primary dysmenorrhea has become one of the commonest complaints in adolescent girls. Dysmenorrhea is a term which is being used for the condition where women may suffer from pain during menstruation. Studies from India reported the prevalence range from 50 to 87.8%. Aims: It was hypothesized that Ayurveda formulations- Vijayadi-vati and Ashwagandha choorna possesses properties like; Vata-kapha shamak (pacifies Vata and Kapha), Shothahara (anti- inflammatory), and Balya (Potent rejuvenator and antioxidant) can be given as oral therapy in primary dysmenorrhoea. Setting and design: this clinical study was an open randomized controlled study, based on a total of 30 clinically diagnosed patients, with Kashtartava (Primary dysmenorrhoea) in the age group of 16-30years from OPD/IPD of Prasuti & Stree Roga Dept. of National Institute of Ayurveda, Jaipur along with consideration of inclusion and exclusion criteria. Methods and material: there were two groups in this trial; In Group A: patients were treated with Vijayadi Vati and in Group B with Ashwagandha Choorna orally before meals for two consecutive menstrual cycles. The treatment was started seven days before the due date to keep the uniformity. Follow-up was done after the completion of the course of trial drugs fortnightly for 2 consecutive menstrual cycles. This study was approved by the Institutional ethical committee with no. F10(5)/EC/ 2014/7228. Statistical analysis used: Mann-Whitney Test was used for comparison in the effect of trial drug between subjective parameters of two groups. Results and Conclusion: Significant improvement was seen in symptoms in both groups, Comparing the symptomatic improvement in both groups it was found that the Average percentage of relief was higher in 'Group A' i.e., 67.78%, followed by 'Group B' i.e., 60.44%. The result was encouraging with marked relief and No any Adverse Drug reaction was recorded in any group during and in the follow-up period in the present clinical study.
Downloads
Download data is not yet available.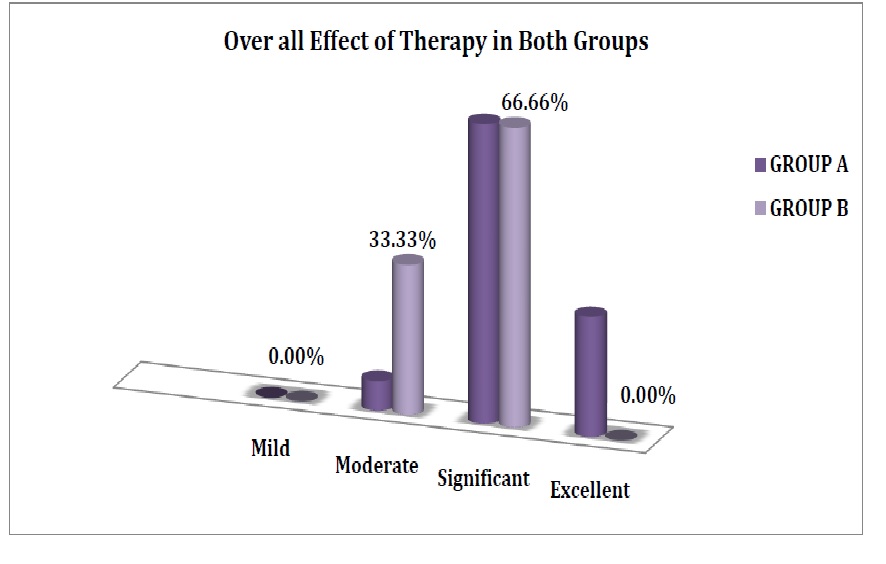 How to Cite
1.
Sharma Upasana, Sharma Sushila, B. Pushpalatha, Dave H. Hetal. A Randomized Controlled Clinical Trial of Vijayadi - Vati on Kashtartava (Primary Dysmenorrhoea). ayush [Internet]. 2023Jan.15 [cited 2023Nov.29];9(6):1-10. Available from: https://ayushdhara.in/index.php/ayushdhara/article/view/1105
Copyright (c) 2022 AYUSHDHARA
This work is licensed under a Creative Commons Attribution-NonCommercial-ShareAlike 4.0 International License.