Role of Panchakarma in the Management of Osteonecrosis of Femoral Head
Keywords:
Osteonecrosis, Asthi - majja gata vata, Shashti shali pinda swedana, Tikta ksheersarpi basti.
Abstract
Osteonecrosis refers to skeletal infarction, occurs when the blood supply to a segment of bone is affected. Apart from trauma, it is usually associated with excessive alcohol intake, cigarette smoking, and injudicious use of steroid therapy. In Ayurveda a correlation can be made with Asthi-majja gata vata on the basis of clinical presentation. Treatment modalities offered for Asthi-majja gata vata according to Ayurvedic classic are internal and external application of Sneha which comes under Brimhana karma of Shadvidh upkarama. Aim: The aim is to consider the Panchakarma therapy as first line of treatment for the osteonecrosis of femoral head. Case presentation: In this study, a 44yrs old chain smoker and chronic alcoholic male patient   of osteonecrosis of femoral head is treated by Brimhana Chikitsa in the form of Sarvang abhyanga, Shashti shali pinda swedana, Tikta ksheerasarpi basti as vitiated Vata dosha residing in Asthi & Majja dhatu. Conclusion: After the administration of Tiktaksheer sarpi basti in Karma basti regimen along with Shastika shali pinda swedana remarked improvement as well as amplification in quality of life was noticed.
Downloads
Download data is not yet available.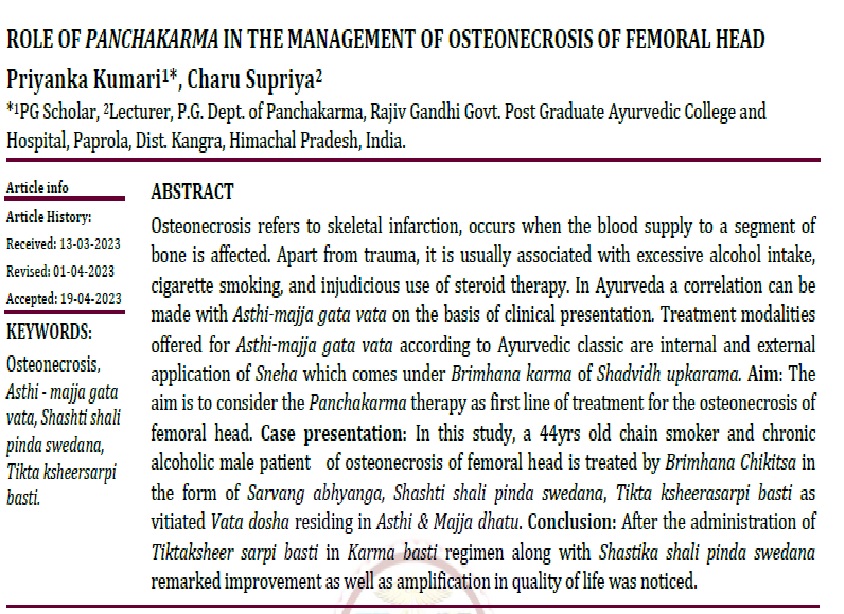 How to Cite
1.
Priyanka Kumari, Charu Supriya. Role of Panchakarma in the Management of Osteonecrosis of Femoral Head. ayush [Internet]. 2023May10 [cited 2023Nov.30];10(Suppl2):23-9. Available from: https://ayushdhara.in/index.php/ayushdhara/article/view/1194
Copyright (c) 2023 AYUSHDHARA
This work is licensed under a Creative Commons Attribution-NonCommercial-ShareAlike 4.0 International License.