A Comprehensive Literary Review of Gastroesophageal Reflux Disease (GERD) in Ayurvedic Perspective
Keywords:
GERD, Dincharya, Ritucharya, Pitta Dosha, Amlapitta, Vyadhi etc
Abstract
The reasons for the rise in metabolic disorders in society include busy schedules with abnormally pressured lifestyles, altered food habits and their patterns, insufficient sleep, and a lack of observance of Dincharya, Ritucharya, Ratricharya and Sadvritta. Achieving the unlimited desires in a very short period of time produces different types of anxiety, worry, anger, fear and depression which directly or indirectly leads to various types of G.I. tract disorders and Gastroesophageal reflux disease (GERD) is one of them. Gastroesophageal reflux disease (GERD), which affects most nations and their populations, has become a widespread ailment over time. Reflux, or the backflow of stomach contents into the esophagus, throat, lungs, and airways, is a common complaint among GERD sufferers. Nowadays people do not follow the rules like 'Dincharya' and 'Ritucharya'. All these things disturb the balance of 'Tridosha'. In addition to these, addition to various vices such as smoking and alcohol results in the disturbance of normal physiology of the body, which again affects G.I. tract and thus produces G.I. disorders. The Pitta Dosha is disturbed by all of the aforementioned elements. The Vyadhis like Amlapitta, Ajirna, Annadravashoola and Parinamashoola can be correlated with GERD. In Amlapitta there is mainly vitiation of Pitta Dosha. Normally Pitta has Katu Rasa but when Katu Rasa becomes Vidagdha and attains Shuktibhava, it creates Amlata in Amashaya, it is called vitiation of Pitta Dosha. Amlapitta is one of the disorders caused by vitiated Pitta. These three Vyadhis come under Annavaha Srotas and Agnimandya is their underlined cause which should be treated. To gain an insight this review will aim to understand the Ayurvedic perspective of gastroesophageal reflux disease.
Downloads
Download data is not yet available.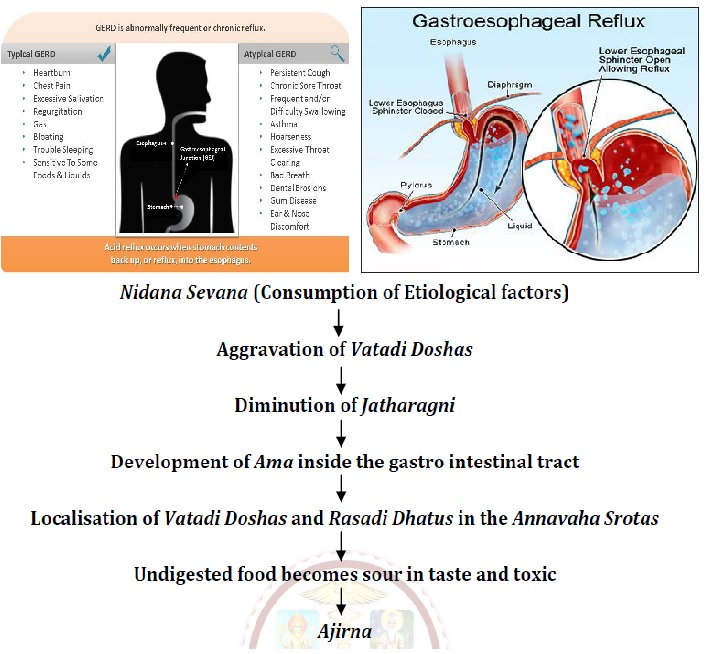 How to Cite
1.
Neha Yadav, Amarendra Kumar Singh. A Comprehensive Literary Review of Gastroesophageal Reflux Disease (GERD) in Ayurvedic Perspective. ayush [Internet]. 2023Sep.9 [cited 2023Sep.26];10(Suppl4):127-33. Available from: https://ayushdhara.in/index.php/ayushdhara/article/view/1323
Copyright (c) 2023 AYUSHDHARA
This work is licensed under a Creative Commons Attribution-NonCommercial-ShareAlike 4.0 International License.