Importance of Mind in Etiology and Management of Gastrointestinal Disorder
Abstract
Ayurveda provides an integrated approach to preventing and treating illness through lifestyle interventions and natural therapies. Nowadays, we all know that stress, anxiety, depression, shows both short and long term effects on the functions of the GIT tracts. Importance of mind in etiology and management of GIT diseases as the gut-brain connection, it can link anxiety to stomach problem and vice versa. Exposure to stress, anxiety, insomnia, depression results in alteration of the brain-gut interactions and ultimately leading to the development of a broad array of GIT disorders including, irritable bowel syndrome and other functional GIT disease. The major effects of stress on gut, alteration in gastrointestinal motility, increase visceral perception, change in gastrointestinal secretions and mast cells are important factors of brain gut-axis that translate the stress signal to release of a wide range of neurotransmitters and pro-inflammatory cytokinins, which may profoundly affect the GIT physiology. We might expect that some patients with GIT conditions might improve with therapy to reduce stress, treat anxiety or depression. The gut brain-axis refers to the physical and chemical connections between gut and brain, mind body therapies like cognitive behavioral therapy, meditation, Yoga, lifestyle, food, behavioral changes are the best management of GIT disorders.
Downloads
Download data is not yet available.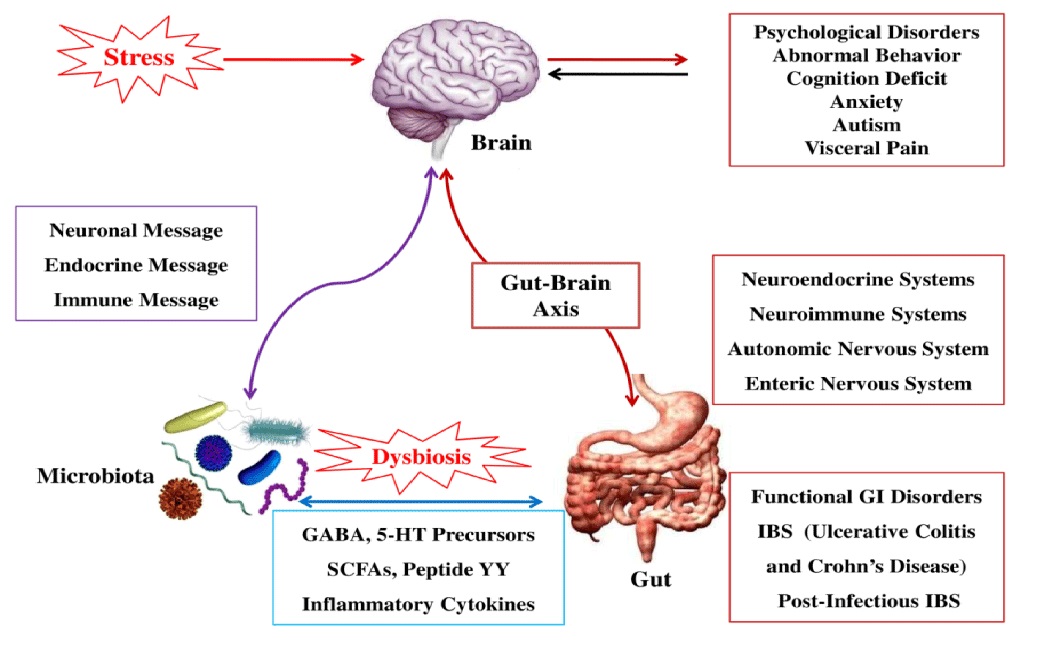 How to Cite
1.
Purnima Bharti, Amarendra Kumar Singh. Importance of Mind in Etiology and Management of Gastrointestinal Disorder. ayush [Internet]. 2022Sep.30 [cited 2023Nov.30];9(Suppl1):71-5. Available from: https://ayushdhara.in/index.php/ayushdhara/article/view/991
Copyright (c) 2022 AYUSHDHARA
This work is licensed under a Creative Commons Attribution-NonCommercial-ShareAlike 4.0 International License.