Role of Abhrakadi Yogam in the Management of Type II Diabetes Mellitus
Keywords:
Type 2 Diabetes mellitus, Abhrakadi Yogam, Action of Insulin, Madhumeha
Abstract
Diabetes Mellitus is a metabolic disorder predominantly affecting carbohydrate metabolism, characterized by high blood sugar levels (hyperglycemia). It occurs either due to insufficient secretion of insulin by the pancreas or when cells don't respond to the insulin being produced. Type 2 diabetes is the most prevalent form of diabetes accounting for about 90% of the total diabetic population. Maintaining a healthy diet, engaging in regular physical activity, and prioritizing mental well-being are the key factors to maintaining proper bodily metabolism. Sedentary lifestyles and hereditary factors primarily contribute to the development of type 2 diabetes by causing metabolic imbalances. In Ayurveda, descriptions of Prameha particularly Madhumeha show close similarities with type 2 diabetes mellitus. According to Ayurveda, all diseases stem from improper functioning of Agni, often interpreted as metabolic errors seen in diabetes. Madhumeha is a condition characterized by vitiation of Tridosha and 10 Dushya. Correcting the Agni and restoring the normalcy of Dosha and Dhatu is necessary for managing Diabetes. Here a literary review is done in evaluating the potential mode of action of Abhrakadi Yogam mentioned in Yogaratnakara, Prameha Chikitsa having Deepana, Srotosodhana, Vatanulomana, Rasayana, Pramehaghna properties in the management of Type 2 diabetes mellitus.
Downloads
Download data is not yet available.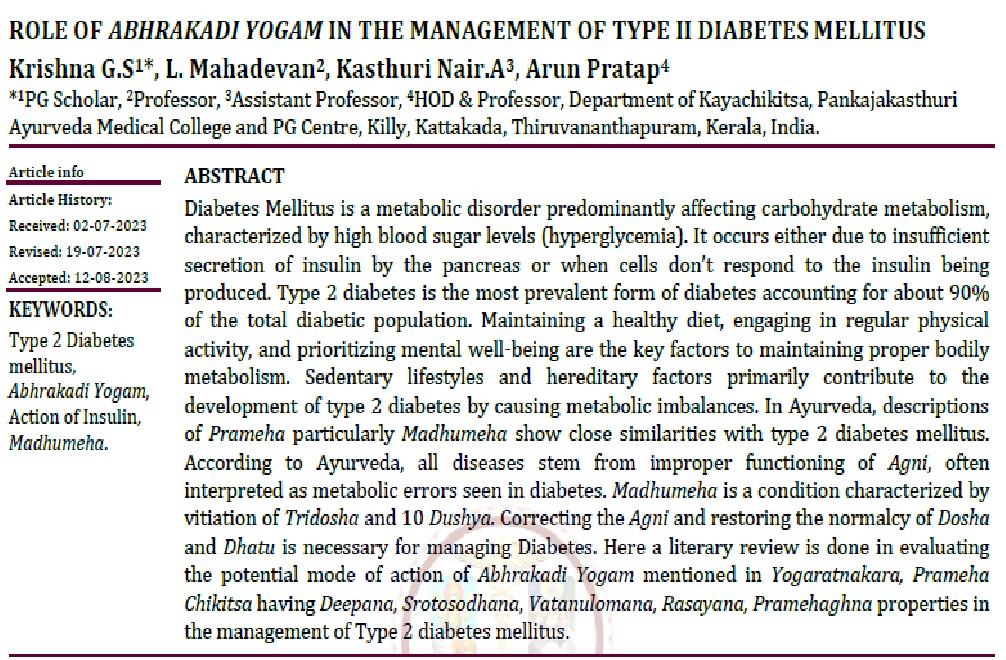 How to Cite
1.
Krishna G.S, L. Mahadevan, Kasthuri Nair.A, Arun Pratap. Role of Abhrakadi Yogam in the Management of Type II Diabetes Mellitus. ayush [Internet]. 2023Sep.9 [cited 2023Sep.26];10(Suppl4):59-64. Available from: https://ayushdhara.in/index.php/ayushdhara/article/view/1340
Copyright (c) 2023 AYUSHDHARA
This work is licensed under a Creative Commons Attribution-NonCommercial-ShareAlike 4.0 International License.