Mode of Action of Trikatu Ghrita Yukt Swarnabhasma in Pandu Roga (Anaemia)
Keywords:
Trikatu Ghrita Yukt, Swarnabhasma, Pandu Roga, Anaemia.
Abstract
Pandu roga, an ancient Ayurvedic term used to describe a specific disease, has been recognized and discussed by various Ayurvedic scholars. According to their teachings, Pandu roga is considered a type of Rasa pradoshaj vikara, with Pitta dosha playing a prominent role in its manifestation. The key characteristic of this disease is Panduthwa, or Pallor, which exhibits clinical features similar to modern-day Anaemia .A condition in modern medicine, involves a deficiency in red blood cells or hemoglobin percentage due to decreased production. It is often associated with poor nutrition and overall health. The problem is commonly observed in low birth weight infants, overweight children who lack energy for physical activity, school-going children, adolescents, and pregnant women. In traditional Ayurvedic medicine, there are various formulations suggested for managing Anaemia, one of which is Trikatu Ghrita Yukt Swarnabhasma. This herbal preparation contains Trikatu, a combination of three spices - Shunthi (Zingiber officinale), Marich (Piper nigrum), and Pippali (Piper longum). These spices are renowned for their digestive and metabolic properties. Additionally, Swarnabhasma, derived from gold, has been utilized in Ayurveda for its rejuvenating and tonic effect.
Downloads
Download data is not yet available.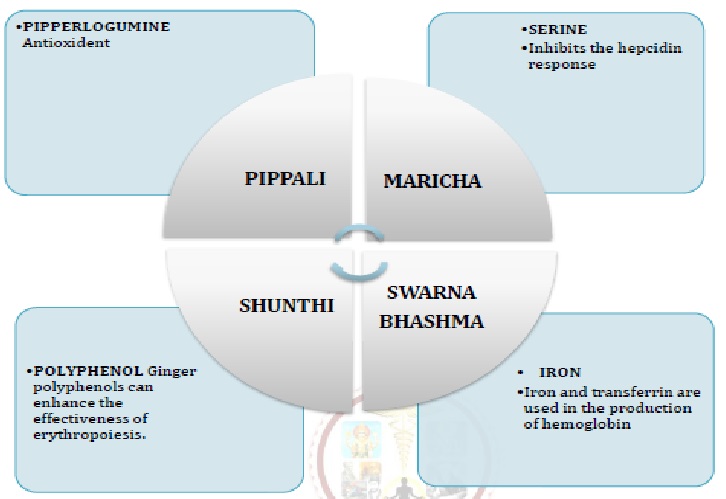 How to Cite
1.
Arti, Agrawal Neeraj, Chandravanshi Lowkesh, Rathia Satyawati, Bhatt Lalit Mohan, Dushyant. Mode of Action of Trikatu Ghrita Yukt Swarnabhasma in Pandu Roga (Anaemia). ayush [Internet]. 2023Sep.9 [cited 2023Sep.26];10(Suppl4):153-60. Available from: https://ayushdhara.in/index.php/ayushdhara/article/view/1353
Copyright (c) 2023 AYUSHDHARA
This work is licensed under a Creative Commons Attribution-NonCommercial-ShareAlike 4.0 International License.