Therapeutic Effects of Shatkarma on Health Through Ayurvedic Perspective
Keywords:
Dhauti, Basti, Neti, Nauli, Trataka, Kapalabhati
Abstract
Man has made tremendous progress in almost every walk of life objects once considered impossible to be achieved, have now been achieved by us. Modern researchers and scientists have fundamentally altered our way of life. However, pollution of air, water, body, and mind is also the result of science, with the advance of civilization mankind is getting weaker day by day. The fundamental changes in our lifestyle brought about by industrialization, changes in diet, physical activity, the nature of the job sitting hours together in front of the computer, roaming always in the vehicles, and lack of active exercise have paved the way to many diseases like diabetes, heart disease, obesity, etc. Routine health problems like constipation, uneasiness, gaseous distention, burning of eyes, sinusitis, headache, indigestion, etc. require a suitable treatment modality to overcome. Every day persons cannot consume medicines for these problems. The human body needs a kind of physical training to show its efficient results. These results are gained by practicing the so-called 'Shatkarma' which is able to bring good results if practiced forever. Body cleansing is gained through the practice of Shatkarmas or the six purificatory techniques. They are very important from the point of view of physical and mental health, and these simple techniques are also highly valuable in healing internal disorders which are the aim of writing this paper.
Downloads
Download data is not yet available.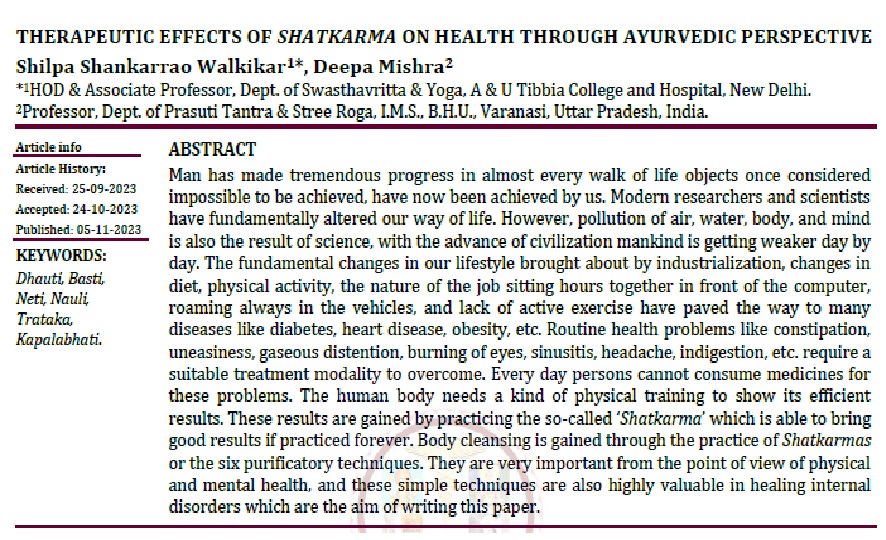 How to Cite
1.
Shilpa Shankarrao Walkikar, Deepa Mishra. Therapeutic Effects of Shatkarma on Health Through Ayurvedic Perspective. ayush [Internet]. 2023Nov.5 [cited 2023Dec.6];10(5):26-30. Available from: https://ayushdhara.in/index.php/ayushdhara/article/view/1387
Copyright (c) 2023 AYUSHDHARA
This work is licensed under a Creative Commons Attribution-NonCommercial-ShareAlike 4.0 International License.