A Minimal Invasive Surgical Procedure (Window Technique) for the Management of Sambukavrata Bhagandara (Horseshoe Shape Fistula In Ano): A Case Report
Abstract
Acharya Sushruta described about Bhagandara in detail and also mentioned about treatment modalities like Kshara Sutra therapy etc. along with Kricchsadhyata difficult to treat and Asadhyata not curable of the disease. Sambukavarta Bhagandara is a Tridoshaj Bhagandara and Sushruta mentioned it as Asadhyaya disease. In contemporary science Sambukavarta Bhagandara can be correlated with horse shoe shape fistula in ano and many treatment options are available to treat the fistula in ano but still it is very challenging to treat the fistula in ano due to high recurrence rate of the disease. In this case study A 62 year old male patient came to our OPD with the complaint of Boil in perianal region along with mild pain and pus discharge since 2 years. Patient was operated previously for the same complaints before one years at somewhere but it reoccur after some time. On examination patient was diagnosed as case of Sambukavarta Bhagandara or posterior Horse shoe shape fistula in ano. In this study patient was treated by Window technique (Minimal invasive surgical procedure) along with Kshara Sutra application under local anesthesia and the outcomes of this technique were very encouraging as it was less time consuming, reduce time of hospital stay, early return to work, less postoperative pain, minimal scar tissue and minimal chances of recurrence. Hence this study is conclude that Window technique is one of the best gold standard technique for the treatment of complicated or Horse shoe shape fistula in ano.
Downloads
Download data is not yet available.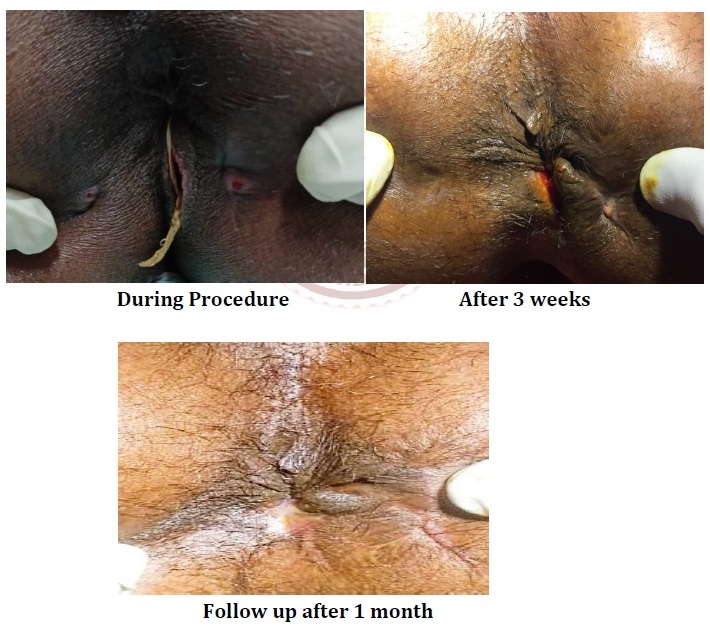 How to Cite
1.
Lokendra Pahadiya, P. Hemantha Kumar, Ashok Kumar, Narinder Singh. A Minimal Invasive Surgical Procedure (Window Technique) for the Management of Sambukavrata Bhagandara (Horseshoe Shape Fistula In Ano): A Case Report. ayush [Internet]. 2022Jan.15 [cited 2023Mar.21];8(6):3630-3. Available from: https://ayushdhara.in/index.php/ayushdhara/article/view/821
Copyright (c) 2022 AYUSHDHARA
This work is licensed under a Creative Commons Attribution-NonCommercial-ShareAlike 4.0 International License.