Concept of Aahara as a Causative Factor in Garbha Vikriti
Keywords:
Ahara, Garbhang Vikriti, Tridosha, congenital defects.
Abstract
A healthy live baby is achievement in today scenario. The graph of congenital abnormality and mortality is raised day by day. Many times we avoid importance of food in Garbha and not consider it as a cause of congenital defects. Nutrition can contribute directly or indirectly in a disease pathogenesis and its appearance. Food is the base of life and Sharira. Acharyas has mentioned Ahara is responsible for Deha as well Vyadhi and it also leads to balance of Tridosha. Fetus depends for nutrition on mother and its development totally depends Matrija Ras Dhatu. Thus, here food plays a role in balancing of Tridosha indirectly. In Ayurveda Matrija Ahara also consider as an important cause of Garbhang vikrti. Thus, balanced Aahara by mother leads to balanced Dosha and a good normal healthy baby. Vishmaavstha of Dosha leads to abnormality i.e., Vikriti. Diet during pregnancy decides the health of baby as well as health of mother. Ahara after digestion not only responsible for fetal growth but also for normal organogenesis. This article explains importance of Matrija Ahara in normal baby and also effect of Dosha Vridhikara Aahara on foetus in congenital deformities. The aim of this article is to evaluate the role of Matrija Aahara in Grbhang Vikriti and open up scope of more study of effects of food in genotype and phenotype.
Downloads
Download data is not yet available.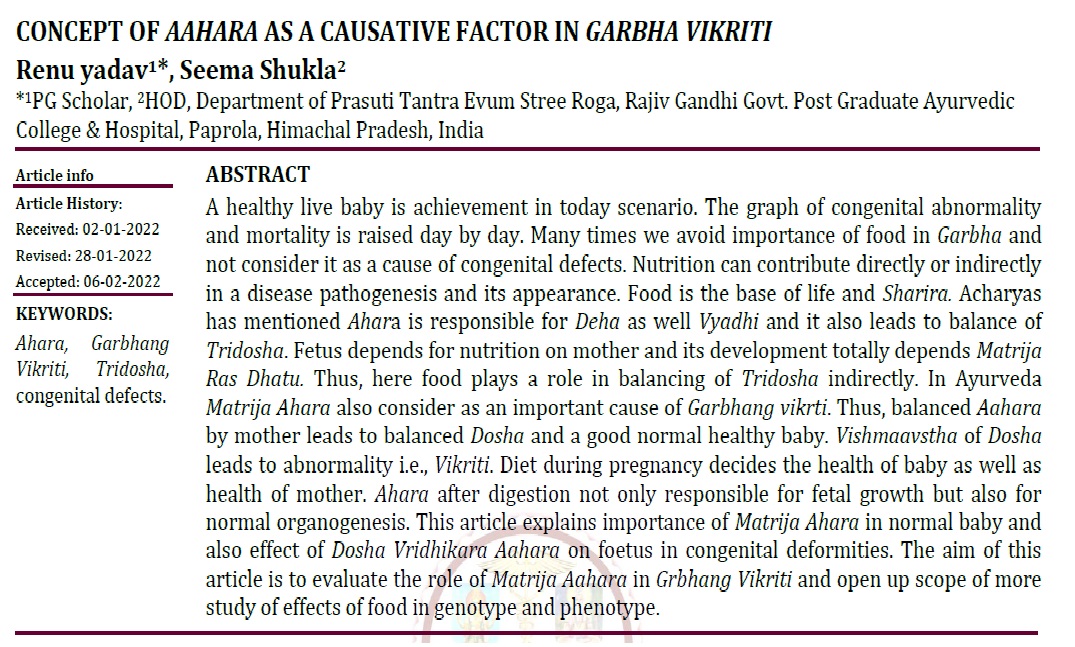 How to Cite
1.
Renu yadav, Seema Shukla. Concept of Aahara as a Causative Factor in Garbha Vikriti. ayush [Internet]. 2022Apr.4 [cited 2022May24];9(1):114-8. Available from: https://ayushdhara.in/index.php/ayushdhara/article/view/903
Copyright (c) 2022 AYUSHDHARA
This work is licensed under a Creative Commons Attribution-NonCommercial-ShareAlike 4.0 International License.