A Clinical Study to Evaluate the Effect of Karshyahar Yoga Granules and Ksheerbala Taila Matra Basti in Karshya w.s.r to Undernutrition in Children
Abstract
Undernutrition among children is one of the serious issues prevailing in developing countries. Despite many efforts India has still higher number of incidence of undernutrition. Karshya roga mentioned in Ayurveda can be the most probable correlation of undernutrition. As Ayurveda has remarked very minute detail about concept of Brihmana and Balya which is the mainstay therapy for Karshya. Therefore we can use Ayurvedic medicine as a better alternative for the management of undernutrition. Aim: To evaluate the efficacy of Karshyahar yoga granules and Ksheerbala taila matra basti in Karshya w.s.r. to undernutrition in children. Materials and Methods: The study was conducted on 40 children of undernutrition for a period of 3 months. Clinical features (weight, height, Daurbalya etc) and hematological parameters (Hb gm%, ser. protein etc) were documented before and after treatment. Statistical Analysis Used: Observations of the study were analyzed and findings were evaluated by using statistical methods Results: In the present study 12.5% patients showed marked improvement, 42.5% patients showed moderate improvement and 45% patients showed mild improvement. No adverse effect of the trial drug was observed during the study. Conclusions: The results showed that Karshyahar yoga granules along with Ksheerbala taila matra basti is more effective in comparison to single use of Karshyahar yoga granules in the management of undernutrition in children.
Downloads
Download data is not yet available.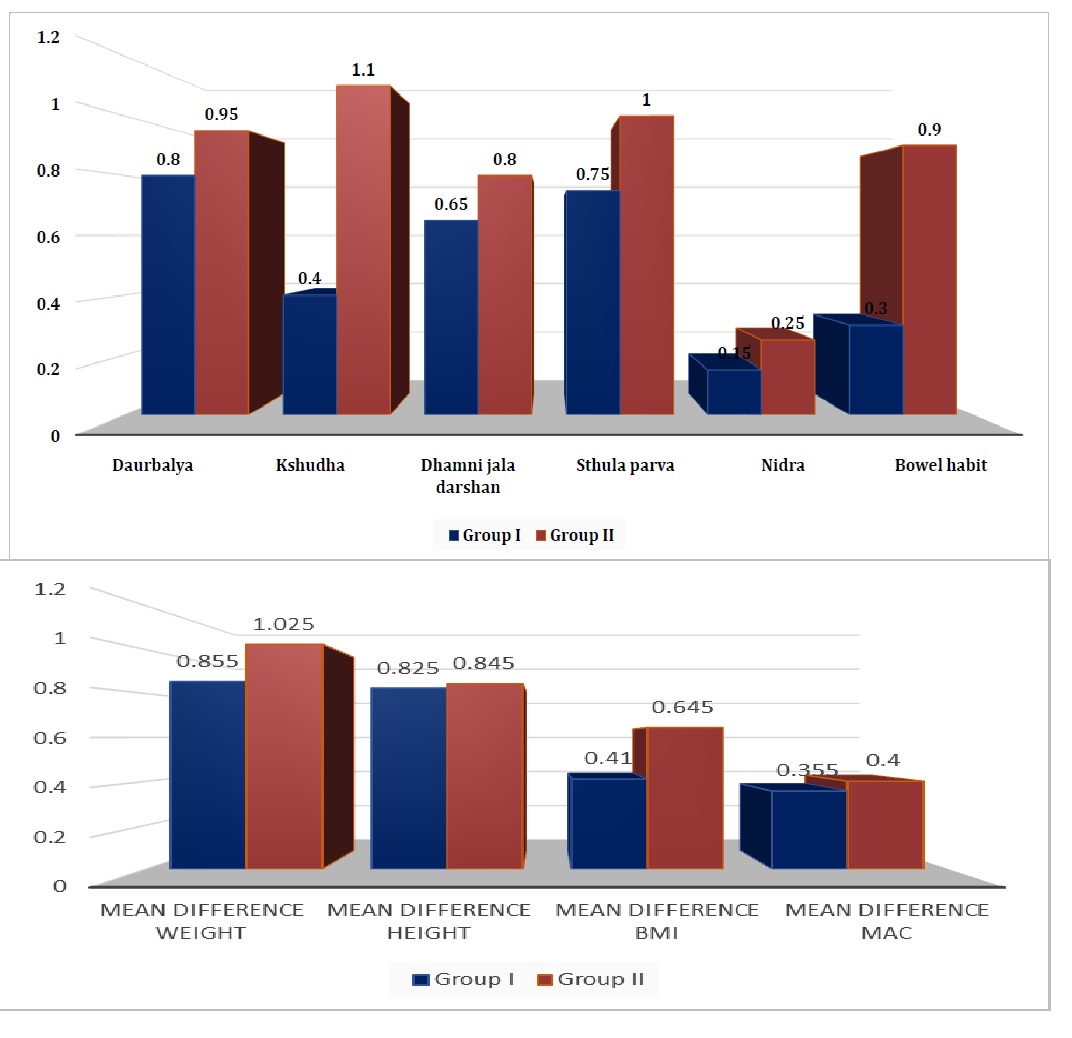 How to Cite
1.
Neha Vats, Minakshi Chaudhary, Vijay Chaudhary. A Clinical Study to Evaluate the Effect of Karshyahar Yoga Granules and Ksheerbala Taila Matra Basti in Karshya w.s.r to Undernutrition in Children. ayush [Internet]. 2022Sep.28 [cited 2023Jun.6];9(4):27-36. Available from: https://ayushdhara.in/index.php/ayushdhara/article/view/1008
Copyright (c) 2022 AYUSHDHARA
This work is licensed under a Creative Commons Attribution-NonCommercial-ShareAlike 4.0 International License.