A Critical Review on Role of Kshina Retasa (Oligospermia) in Male Infertility
Keywords:
Kshina Retasa, Sperm, Andrology, Vajeekarana
Abstract
Male infertility is one of the major problems now-a-days and incidence of this problem is increasing on a regular basis due to the modernization. Kshina Retasa is one of the conditions responsible for male infertility which can be correlated with low sperm count in semen. Infertility affects an estimated 15% of couples globally. The terms like Kshina Shukra, Alpa Retasa, Shukra Dosha, Kshina Retasa resembles the conditions related with Oligospermia in Ayurveda. Introduction: Infertility is a disease of reproductive system defined by failure to achieve the clinical pregnancy after 12 months or more of regular unprotected sexual intercourse. It is a global public health issue. A low sperm count of less than 15 mil sperm/ml of semen is considered as Oligospermia. Aim: To review the role of Kshina Retasa in male infertility and manage it through the Ayurveda. Objectives: To rule out the relevant cause of Kshina Retasa and to discuss the Ayurvedic perspective of oligospermia and to find out the cheap, easily available Ayurvedic modalities to treat and prevent Kshina Retasa. Data source: Charaka Samhita, Sushruta Samhita, Astanga Hridaya, modern medical textbooks, Journals and online databases. Results and Conclusion: The literary study shows that the drugs possessing Snighdha guna, Balya, Vrishya and Vata-sthapana properties have good effect in Kshina Retasa. Similarly, Madhura rasa, Sheetavirya, Vrishya, Brimhana and Vatapittahara properties of many drugs offers beneficial effect in Kshina Retasa. Hereby, we can conclude that the traditional system of Ayurvedic literature is better treatment option for Kshina Retasa in present context.
Downloads
Download data is not yet available.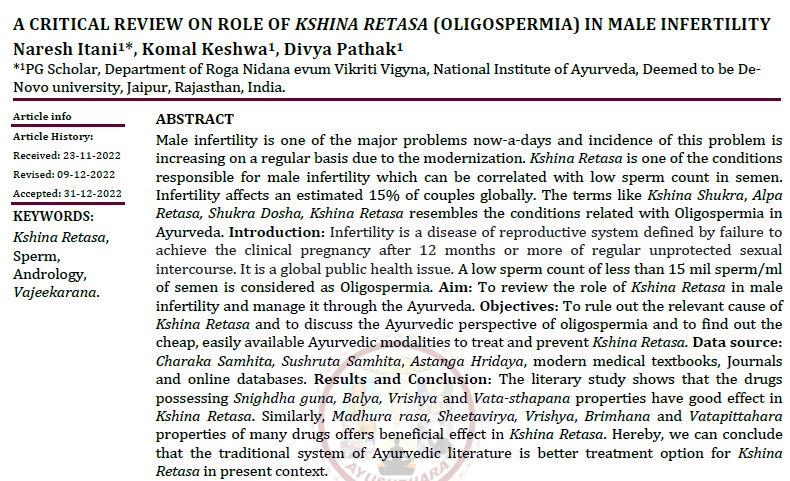 How to Cite
1.
Naresh Itani, Komal Keshwa, Divya Pathak, Tabassum Parveen, B.K. Sevatkar. A Critical Review on Role of Kshina Retasa (Oligospermia) in Male Infertility. ayush [Internet]. 2023Jan.15 [cited 2023Feb.1];9(6):100-4. Available from: https://ayushdhara.in/index.php/ayushdhara/article/view/1101
Copyright (c) 2022 AYUSHDHARA
This work is licensed under a Creative Commons Attribution-NonCommercial-ShareAlike 4.0 International License.