An Ayurvedic Perspective on Computer Vision Syndrome
Keywords:
Computer Vision Syndrome, Shushkakshipaka, Netraroga, Sarvagata Netraroga, Ayurveda.
Abstract
Eye sight is the God's best present to mankind, the blessing that permits us to peer our environment and sense the exquisite beauty of God's creation. According to John Ruskin, an English Author, poet and artist, "The best element a human soul does in this globe is to peer something, and inform what is noticed in a simple way. To see vividly is poetry, prophecy and religion- all in one." Computers have become a crucial part of day-to-day life. Everyone, in one or other condition, gets the essentiality to use computer, seeing that the usage of games, several computer programmes etc., the usage of computer system is multiplied to such an extent that several jobs are now based completely on the usage of computers. Nowadays the person's profession demands more than 8 hours of computer work in a day. Since the computer is involved with vision and eyes, it has some impact on the eye and surrounding muscles. Most of these symptoms are due to dryness of eyes which is produced by monitor light and reduced blinking. A high degree of success (Sheedy and Parsons, 1990) has been attained in resolving the signs and symptoms of Computer Vision Syndrome via way of applying the following two- fine approaches: 1. Careful diagnosis and treatment of visual conditions that lead to CVS signs & symptoms. 2. In- workplace diagnosis and management of workstation ergonomic deficiencies. But no remedial measures for therapy of this syndrome succeed in the area of modern science. It is out of query to affirm the existence of similar syndrome in historic documents, as the disorder is the result of modern invention. But there is room to recognize the ailment via Ayurvedic spectacles and to systematically follow the Ayurvedic remedies for the modern ailment. In Ayurveda, Computer Vision Syndrome could be correlated to Shushkakshipaka of Sarvagata Netraroga.
Downloads
Download data is not yet available.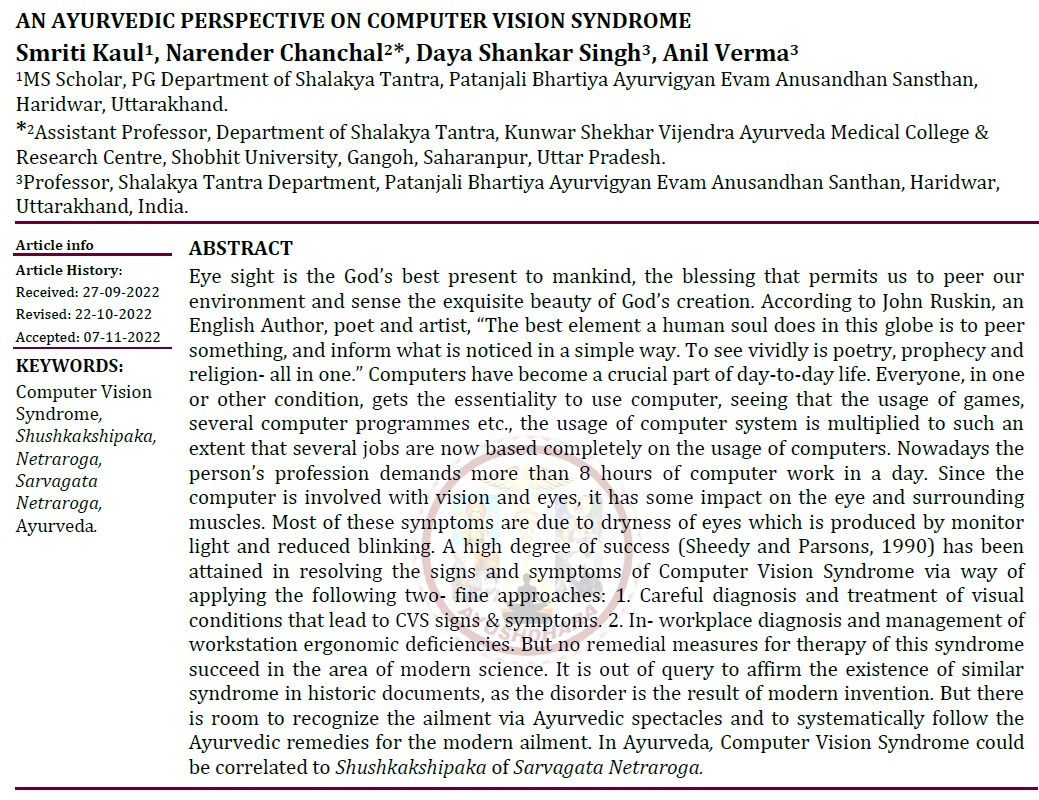 How to Cite
1.
Smriti Kaul, Narender Chanchal, Daya Shankar Singh, Anil Verma. An Ayurvedic Perspective on Computer Vision Syndrome. ayush [Internet]. 2022Dec.1 [cited 2023Feb.1];9(5):77-82. Available from: https://ayushdhara.in/index.php/ayushdhara/article/view/1073
Copyright (c) 2022 AYUSHDHARA
This work is licensed under a Creative Commons Attribution-NonCommercial-ShareAlike 4.0 International License.