A Critical Modern Review on BRVO (Branch Retinal Vein Occlusion)
Keywords:
Branch retinal vein occlusion (BRVO), Retinal vascular disease, Systemic vascular disease, Risk factors, pathogenesis, treatment, Anti-VEGF therapy, vitrectomy, sheathotomy
Abstract
Branch retinal vein occlusion (BRVO) may be a common reason behind retinal vascular disease. General vascular diseases corresponding to cardiovascular disease and induration of the arteries are risk issues for BRVO. Age is additionally a powerful risk factor for BRVO. And lots of epidemiological studies have confirmed that the prevalence will increase with increasing age. It happens most often between the ages of sixty and seventy years. Men and ladies are affected equally. Age, systemic hypertension and also the retinal artery changes related to it, together with blood vessel nicking and retinal arteriolar narrowing, are well-established risk factors for BRVO. Other vessel risk factors, reminiscent of diabetes, smoking, hyperlipidemia, chamber fibrillation, urinary organ dysfunction, and atherosclerosis, have conjointly been related to an exaggerated risk of BRVO. The pathologic interruption of blood vessel flow in eyes with BRVO nearly always happens at a blood vessel crossing. Patients with BRVO gift with unexpected painless loss of vision or a visible field defect. Prognosis and we have a tendency to the effectiveness of various treatment choices. So it's necessary to grasp the explanation of BRVO. BRVO could be a common reason behind vision loss, however several treatment options are accessible and rising therapies are under investigation. Here, we gift a review of the chance factors, pathological process in BRVO, clinical features, natural history, clinical evaluation, diagnostic workup, clinical treatments for BRVO patients also as connected clinical trials also are reviewed.
Downloads
Download data is not yet available.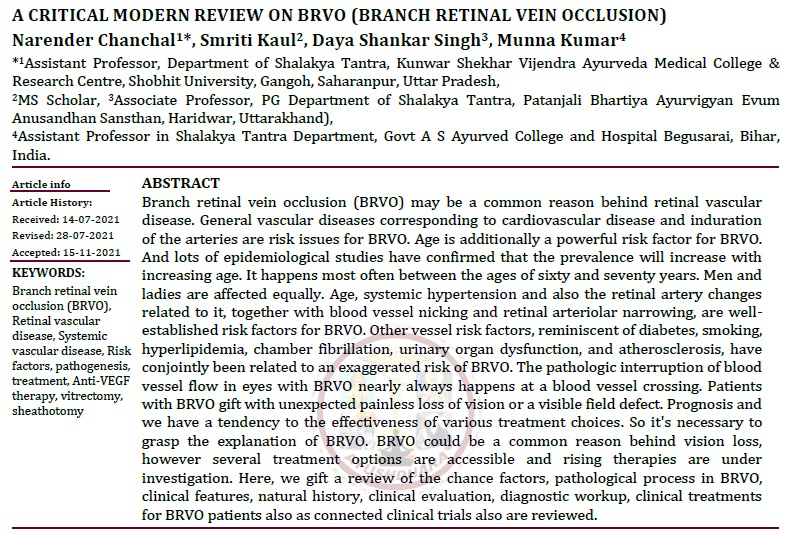 How to Cite
1.
Narender Chanchal, Smriti Kaul, Daya Shankar Singh, Munna Kumar. A Critical Modern Review on BRVO (Branch Retinal Vein Occlusion). ayush [Internet]. 2022Jan.15 [cited 2022Dec.6];8(6):3690-9. Available from: https://ayushdhara.in/index.php/ayushdhara/article/view/854
Copyright (c) 2022 AYUSHDHARA
This work is licensed under a Creative Commons Attribution-NonCommercial-ShareAlike 4.0 International License.